This Week's Schedule
SUNDAY
9:00 AM - Praise & Worship Practice - Chapel 10:00 AM - Adult Sunday School - Library 10:00 AM - Corps Cadets - Classroom 2 10:15 AM - Prayer Time - Prayer Room 11:00 AM - Worship Service - Chapel 12:15 PM - Food & Fellowship - Fireside Room 12:30 PM - Youth Music Rehearsals - Chapel
TUESDAY
6:00 PM - Men's Bible Study - Fireside Room 6:00 PM - Rooted: Small Group - Library 7:00 PM - Songsters Practice - Chapel 8:00 PM - Senior Band Practice - Chapel
WEDNESDAY
10:00 AM - CAMEO: Social Justice led by Jacqui Larsson via Zoom - Fireside Room
Saturday
10:00 AM - 2:00 PM - Youth prepping for Sunday's Service & Valentine's Luncheon
NEXT SUNDAY - Valentine's Luncheon after church. See details below.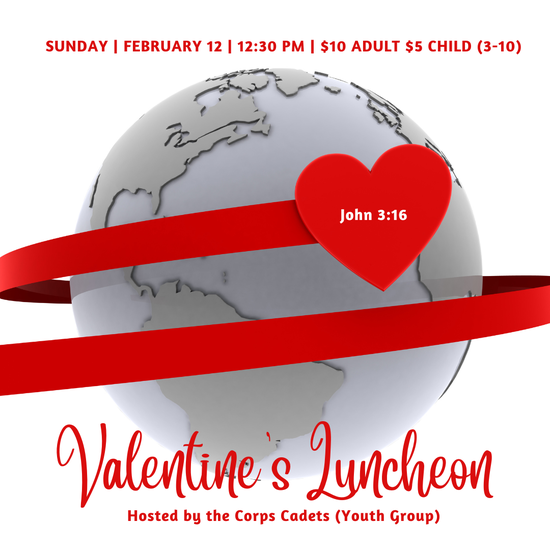 Valentine's Luncheon
When: Sunday, February 12 Time: 12:30 - 1:30 PM (following the Sunday service)
Cost: $10/adult and $5/child (ages 3-10)
The Corps Cadets (Youth Group) will be hosting our second annual Valentine's Luncheon. It will be an international lunch. You are invited to wear your cultural attire to join in the festivities.
Proceeds will support youth activities.
See a Corps Cadet to purchase a ticket and reserve your space.
Food & Fellowship Time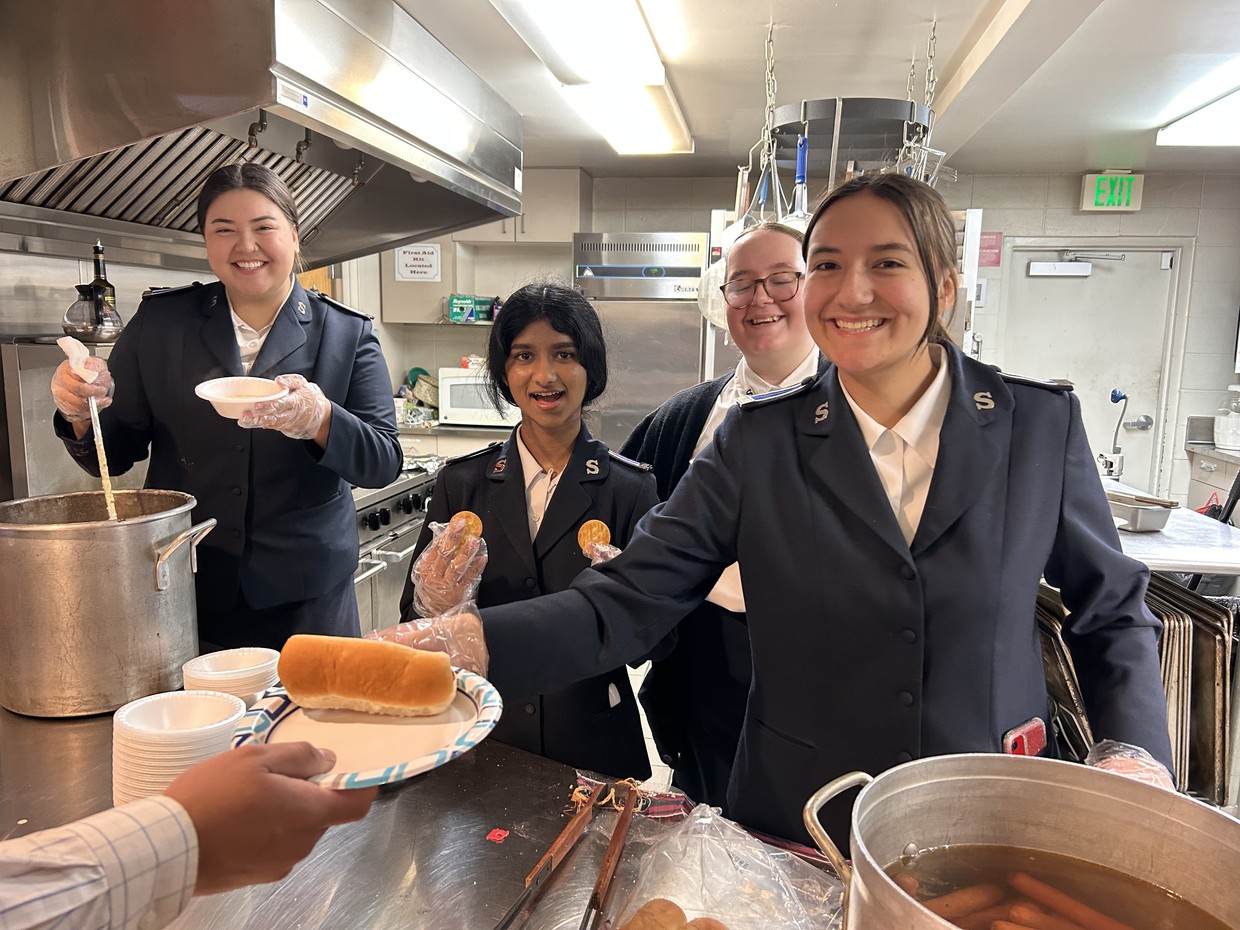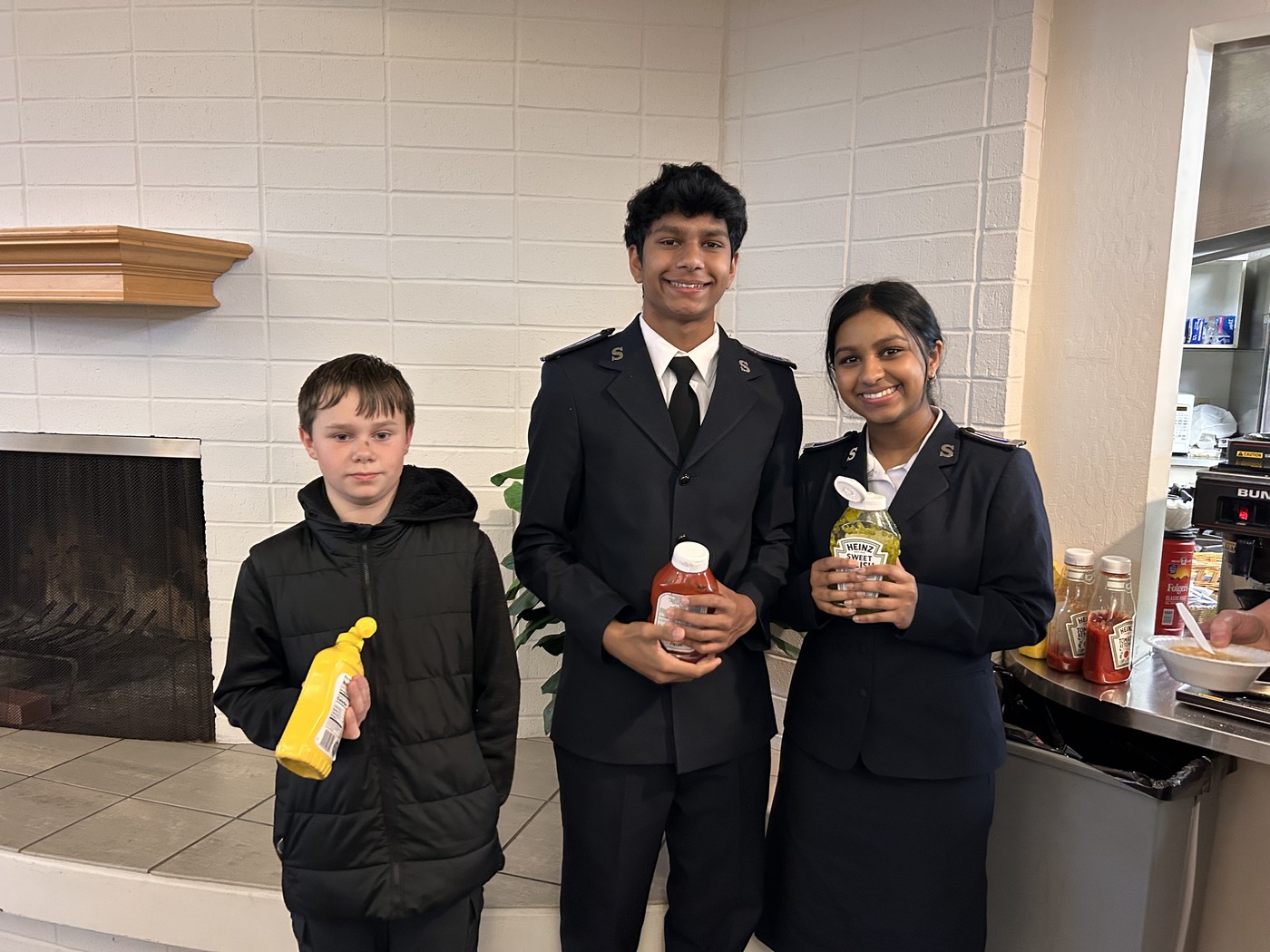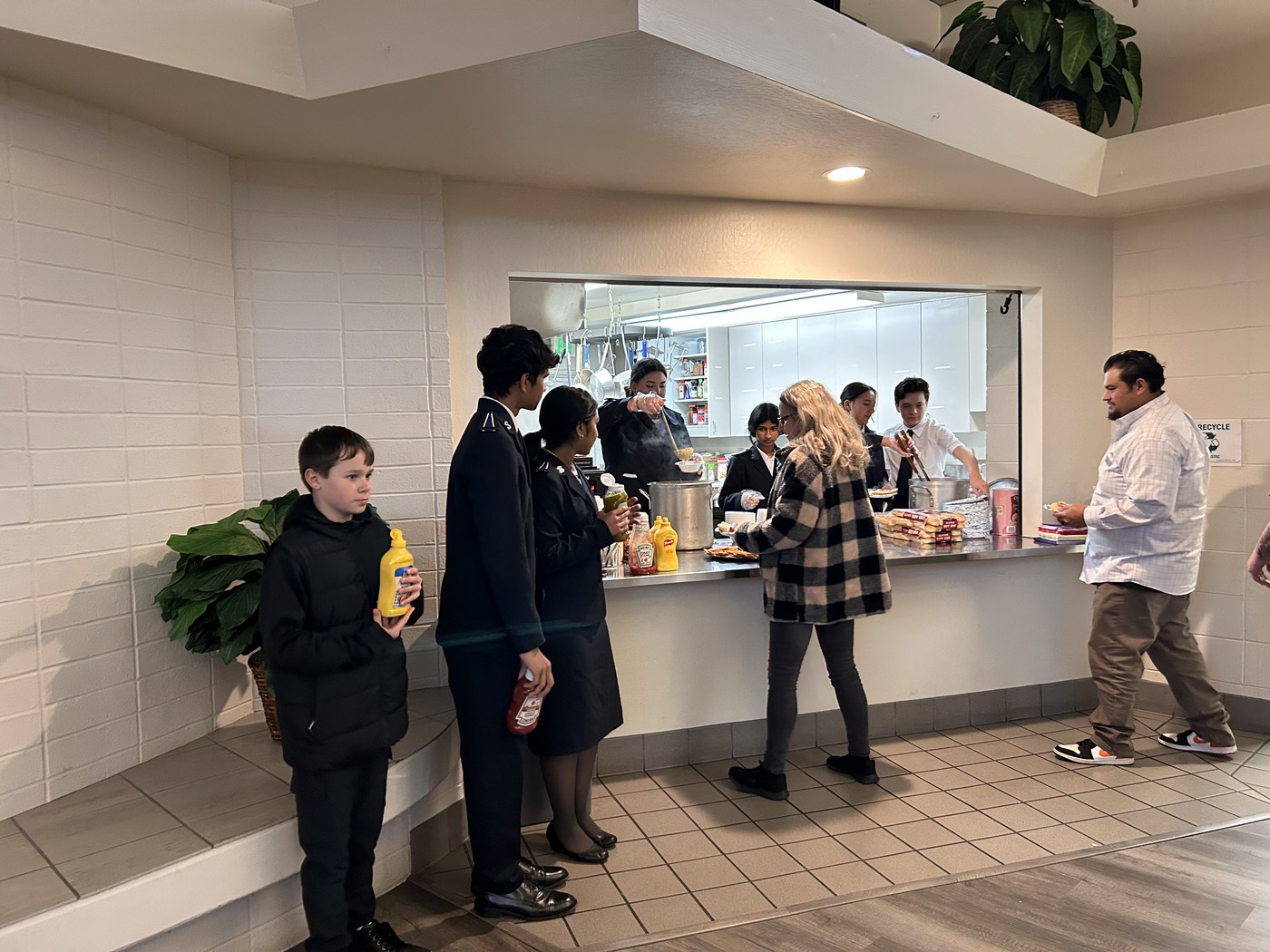 BINGO at CAMEO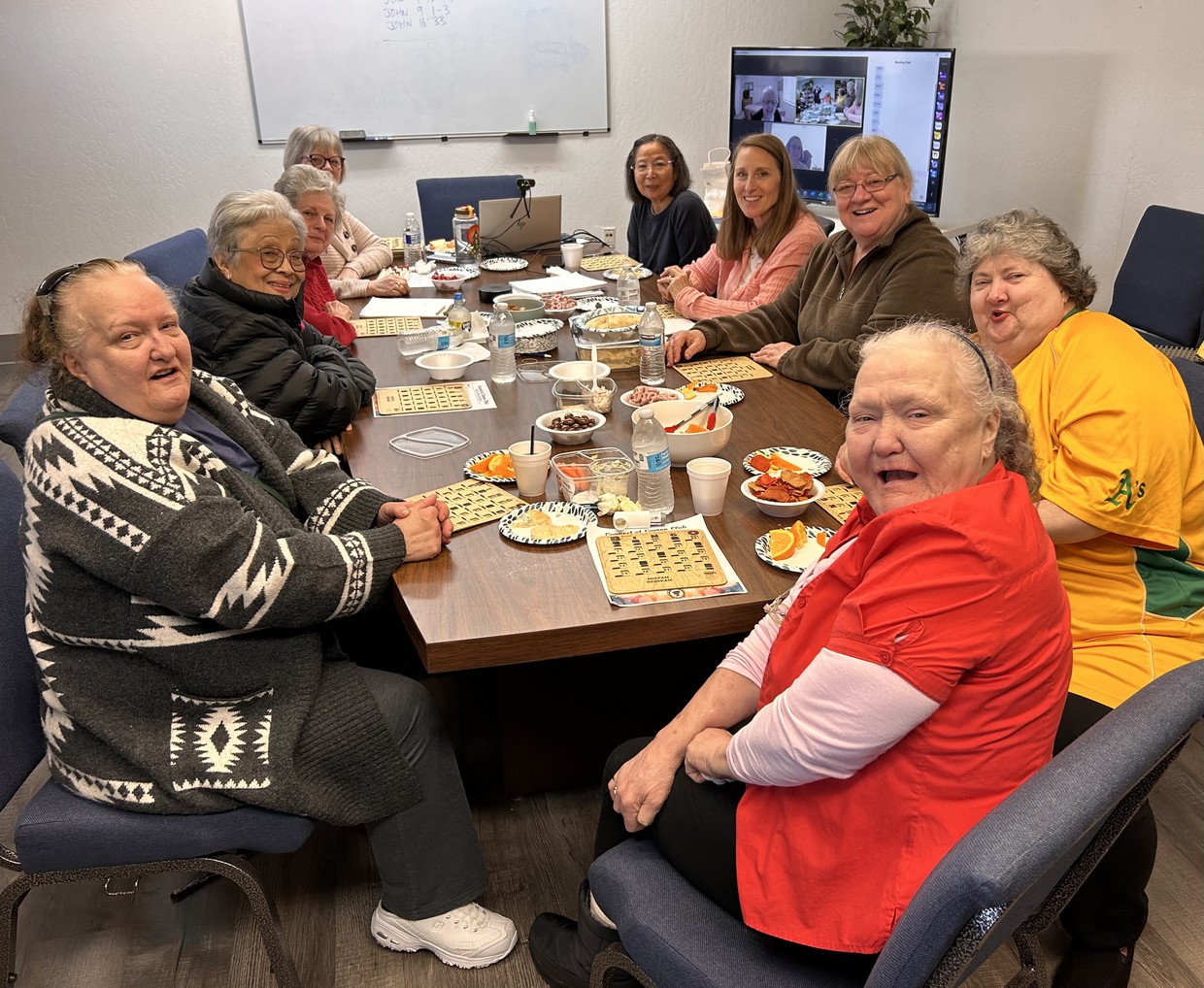 Corps Cadet Rally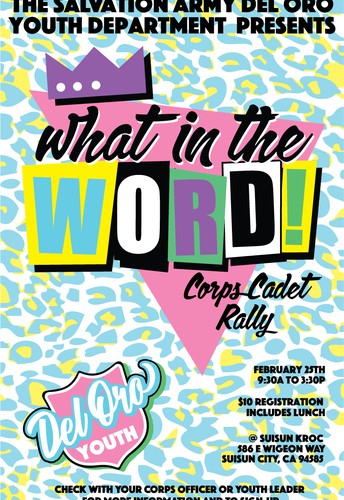 This year's theme for Corps Cadet Rally 2023 is "What in the Word!". In 2 Corinthians 9:6-7, it says, "Remember this: Whoever sows sparingly will also reap sparingly, and whoever sows generously will also reap generously. Each one of you should give what you have decided in your heart to give, not reluctantly or under compulsion, for God loves a cheerful giver." Delegates will get to learn about what the Word says about Stewardship, Creation Care, and Forgiveness and learn about how they can apply these three themes into their daily lives.
The cost for the Rally is $10.00 per delegate and lunch is included.
At the end of the day, delegates will get to use the Kroc Center amenities like the Rockwall, Gym, and Pool so make sure they bring the appropriate attire for those activities.
Registration is due Friday, February 18. See Major Ann for the registration forms.
NOTE: Please pray for our Youth Praise Team as they will be leading worship for this event. Also, Morgan Jones has been asked to share her testimony. Pray that the Lord will help her clearly communicate to her peers what God has done and continues to do in her life.
Prayer Requests
Requests will be prayed for in our Prayer Room and distributed through our Prayer Chain. Requests can be made anonymously.
---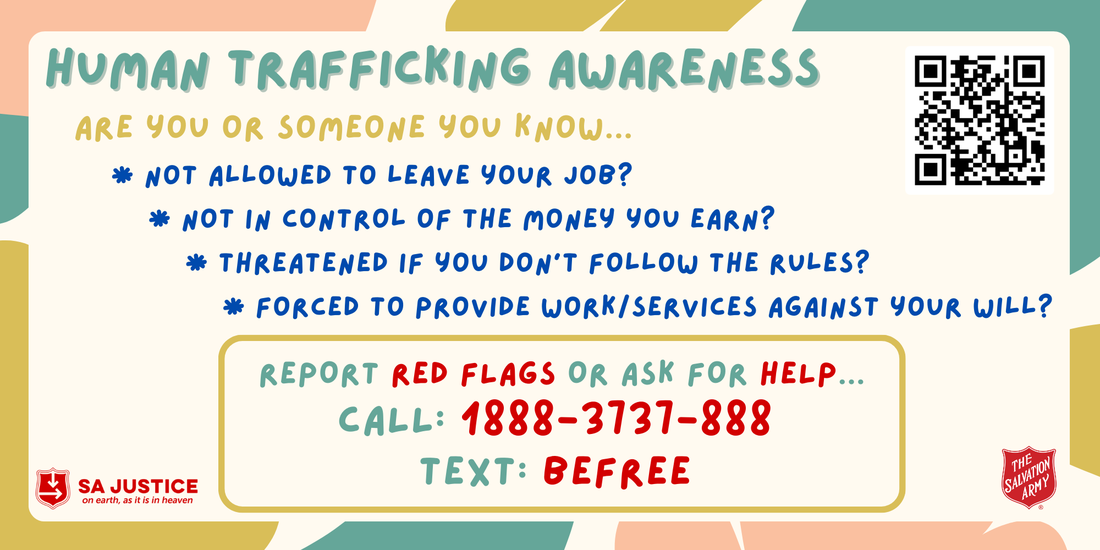 ---
Creative Arts Conference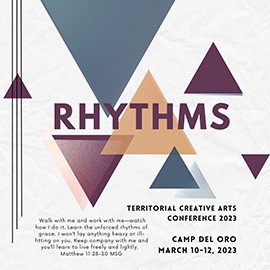 Hello Artists, Creatives + Worship Leaders!
Get ready for the Territorial Creative Arts Conference! Our theme for this year is "Rhythms" inspired by Matthew 11:28-30 (The Message)
"Are you tired? Worn out? Burned out on religion? Come to me. Get away with me and you'll recover your life. I'll show you how to take a real rest. Walk with me and work with me—watch how I do it. Learn the unforced rhythms of grace. I won't lay anything heavy or ill-fitting on you. Keep company with me and you'll learn to live freely and lightly."
We pray that you will find rhythms of rest, growth, and grace in Jesus and through our time together.
Date: March 10-12, 2023
Location: Camp Del Oro, Nevada City
Ages 18+
Saturday-only attendance option available
Guest Speakers + Performers
Allen Arnold, author and speaker, will speak on 1) Eden Rest: Real Restoration for your Heart and Art and 2) God's Design for Growth: reclaiming voice, union and vision.
Dr. Bonnie Robb, educator and teacher leader, will teach about effective strategies of storytelling to reach more people.
Bill Booth Theater Company will share a drama presentation on Saturday evening.
Douglas Berry – Director of Contemporary Music USA Eastern Territory
Additional workshops in a variety of artistic expressions are available to train and resource individuals for local ministry. You can sign up for a total of 3 workshops. In the registration site, be sure to pick one workshop each workshop time.
Register at https://events.usawest.org
Workshop 1 @ 10:45 am (select one)
Dance: Learn a lyrical (slow) dance for worship.
Drama: Scripture Alive! Learn ways to dramatize scripture to use in a worship service.
Visual Arts: Using decoupage, paints, and a handful of journaling elements you will express your "heart, mind & soul" as you create your own 6" Tiny Me.
Creative Writing: Questions to ask when creating your next writing project or book. discover how to pursue your idea, your audience, your voice, and your project with renewed passion and purpose.
Praise and Worship: Worship Leading with Doug Berry
Workshop 2 @ 1:15 pm (select one)
Dance: Learn an upbeat praise dance.
Drama: Learn short sketches and scenes.
Visual Art: Mixed Medium Art Personal
Journal: Journey into the world of personal -expressive - healing art that will emerge from layers of mixed media you apply to tell your story of faith amidst struggle.
Creative Writing: The Three Stages of Creativity, how to avoid its pitfalls and insights to maximize your time.
Praise and Worship: Worship Leading with Doug Berry
Workshop 3 @ 2:45 pm (select one)
Dance : Foundations of movement, technique, and choreography.
Drama : Learn a Jesus Theater piece.
Visual Art : Mixed Medium continued
Creative Writing : Scriptwriting
Praise and Worship: Worship Leading with Doug Berry.
---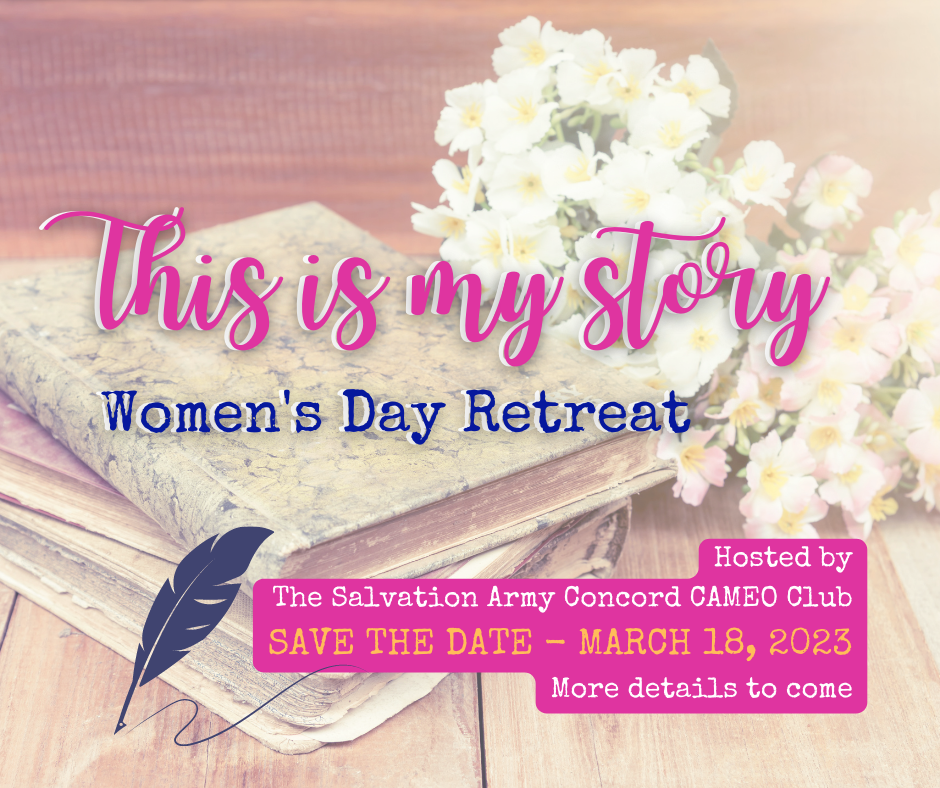 Women's Day Retreat - March 18
Hosted by Concord's CAMEO Club, we have a special guest, Lt. Betty Vesikula, coming to share her story. We also have 5 different workshops that will allow the ladies some time to break into smaller groups and try a couple of new things. Lunch will be provided and there will be a book exchange at the end of the day.
The registration fee is only $15. Additional workshop fees may be required.
Click Here To Get to the Tith.ly App
You can make a tithe payment, give an offering, or donate towards the World Services fund.
---
Divisional Youth Retreat - Upside Down - March 24-26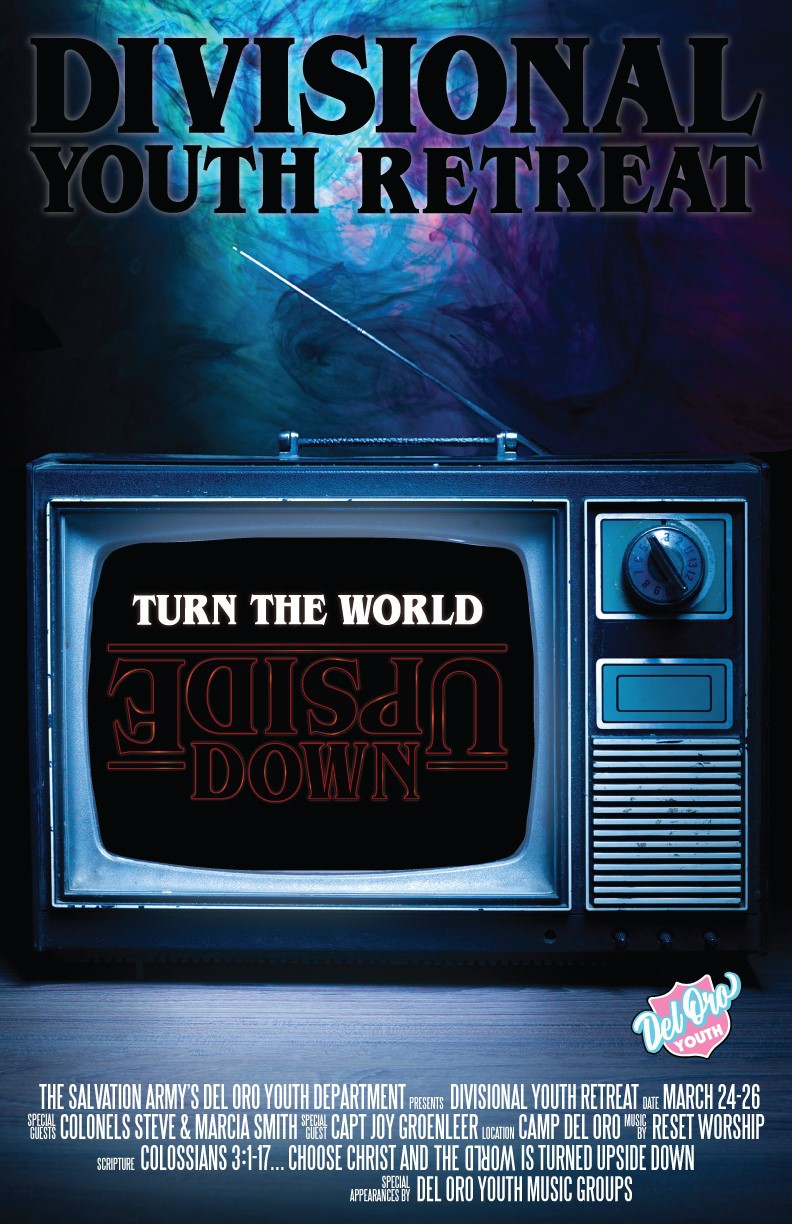 Our theme scripture will be Colossians 3:1-17 and will be looking at Peter's story. We will be taking into account major life-turning points and transformational moments that lead to Peter's world-changing ministry, leading others to turn their lives upside down from darkness to life in Jesus. Delegates will have the opportunity to build friendships, participate in fun activities and hear from amazing leaders throughout the weekend.
Divisional Youth Retreat is for ages 13-18 years old. Keep in mind that delegates who are 18 years old and still in high school will need to complete PTM. The cost for the weekend is $75 per delegate.
Registration is due March 10. Please see Major Ann for the forms.
50-Day Prayer Blitz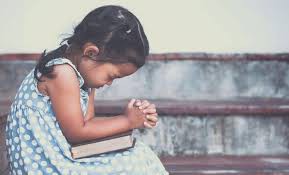 I am asking if you will join with me each day, beginning February 5 through the 12th in a united endeavor, asking God to hear and answer our request to swell our ranks. God, we need a resurgence, a 50@50 occasion that will send a definite and undeniable CALLING upon and hearts, minds, and souls of Prospective Candidates for Salvation Army Officership. A CALLING placed upon at least 200 of God's Children to become future leaders of our great Army.
"Almighty God, we collectively come before you, to ask You to place a 'Samuel's calling', a 'Gideon's calling' and to anoint Salvation Army youth to accept the summoning of You, God, for the express purpose of becoming Officers in the Mission of our Army. Lord, You know the hearts of those who are leaning toward this opportunity to serve and minister to the next generation of Salvationists.
Our young people are ready to offer themselves. They come from different backgrounds, vocations, and aspirations. Call them into the most important position in the Army, The Corps Commanding Officer! Just as you spoke to Gideon, we are praying you are speaking to many in this generation. It is recorded in Judges 6:16 you promised: 'Surely I will be with you.' Some who have begun vocations, may they do as the disciples of old did, they will leave like James, John, Peter, and Andrew did, who left their livelihood and family, to immediately follow Jesus.
May today's disciples, Almighty God, do the same! Father we are asking you to call our people to the most inspiring mission in the world; a call to minister unto 'Others'. Thank you for hearing and working Your will upon these Prospective Officers. We pray for 50@50 in Jesus' name. Amen"
Major Raymond Patrick An Officer from the USA Eastern Territory