Major's Minute
I know I say it often, but I cannot say it enough: I thank God for our small but mighty team - staff and volunteers - at the Concord Corps. We've been a few men and women down due to various reasons - sickness, vacation time, family reasons, etc. Yet we manage to keep on going. We help cover for each other and others step in to help for a period of time.
Tasks include flood-watch duty, cleaning services, administrative duties, donation pick-ups, pantry services, and more. We are able to do this for each other because routines have already been set, guidelines are clear, connections have been made, and examples have been left behind for us to compare.
The influencers around us are strong - social media, movies, friends, coworkers, teachers, politicians, and more! But I would encourage you to follow examples in God's Word.
God's Word provides examples and guidelines of how to live, work, play, obey, give, serve, and grow. It gives us wisdom and instruction on how to be a good friend, a good worker, a good supervisor, a good leader, and more! We are given examples through our forefathers, prophets, apostles, and Jesus himself.
Definition of example: a person or thing regarded in terms of their fitness to be imitated or the likelihood of their being imitated.
So ...
"Follow God's example, therefore, as dearly loved children and walk in the way of love, just as Christ loved us and gave himself up for us as a fragrant offering and sacrifice to God." Ephesians 5:1-2, NIV
"To this you were called, because Christ suffered for you, leaving you an example, that you should follow in his steps. 'He committed no sin, and no deceit was found in his mouth.'" 1 Peter 2:20-22, NIV
And be an example for others ...
"Don't let anyone look down on you because you are young, but set an example for the believers in speech, in conduct, in love, in faith and in purity." 1 Timothy 4:12, NIV
"In everything set them an example by doing what is good. In your teaching show integrity, seriousness and soundness of speech that cannot be condemned, so that those who oppose you may be ashamed because they have nothing bad to say about us." Titus 2:7-8, NIV
Major AnnMarguerite Jones
---
Link to Archived Articles This will take you to Jim Black's collection of Bible Study articles since starting the newsletter.
---
This Week's Schedule
SUNDAY
9:00 AM - Praise & Worship Practice - Chapel 10:00 AM - Corps Cadets - Classroom 2 10:15 AM - Prayer Time - Prayer Room 11:00 AM - Worship Service - Chapel 12:15 PM - Food & Fellowship - Fireside Room 12:30 PM - Youth Music Rehearsals - Chapel
MONDAY - OFFICE CLOSED - Martin Luther King Jr. Day
TUESDAY
6:00 PM - Men's Bible Study - Fireside Room 7:00 PM - Songsters Practice - Chapel 8:00 PM - Senior Band Practice - Chapel
WEDNESDAY
10:00 AM - CAMEO: Favorite Miracles - Library 6:30 PM - Girls' Game Night - Judy's House
SATURDAY
10:00 AM - 2:00 PM - Corps Cadet Make-Up Lessons Day - Major Ann's House
---
CAMEO's Aged to Perfection Program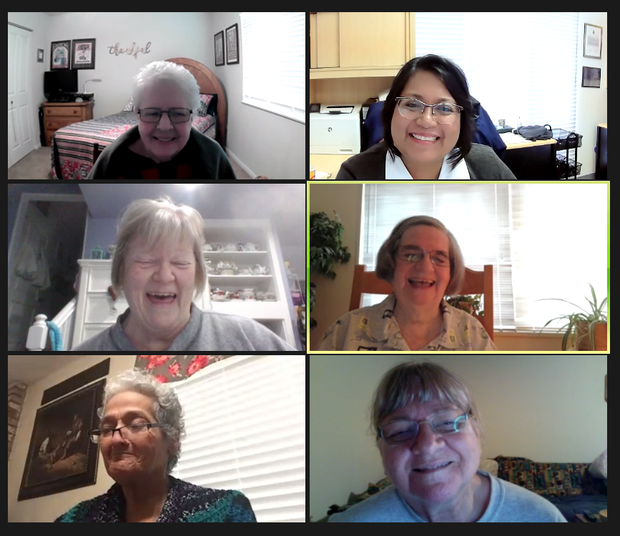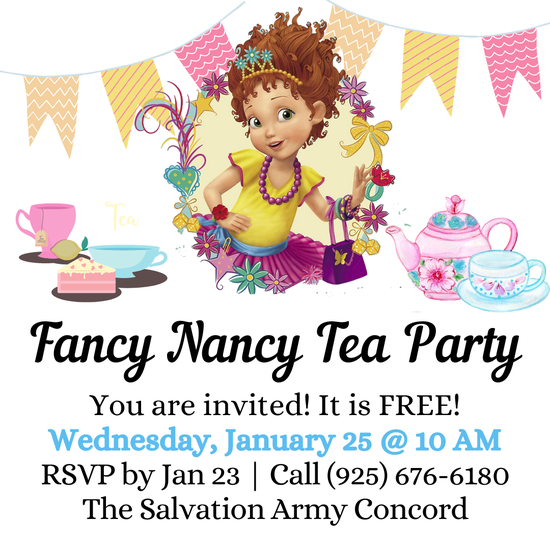 ---
Junior Soldier Rally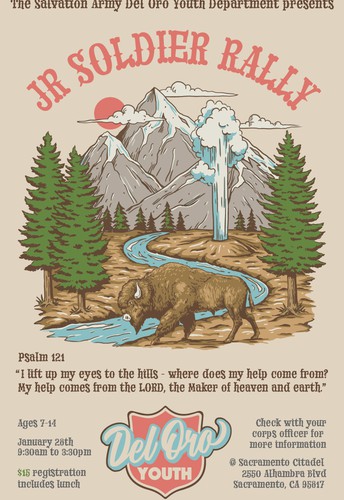 The theme for the rally is National Parks! All Prospective and current Junior Soldiers are invited to attend.
Event: Junior Soldier Rally
When: January 28, 2023
Time: 9:30 AM - 3:30 PM (Check-in starts at 9:30 AM in the Chapel Lobby)
Where: Sacramento Citadel Corps
Who: 7-14 years old
Cost: $10.00 (lunch included)
Registration is due Friday, January 20, so please let Major Ann know if you are interested in going. We plan to leave the corps at 8:00 AM.
---
International Headquarters Prayer Focus
SINGAPORE, MALAYSIA, AND MYANMAR TERRITORY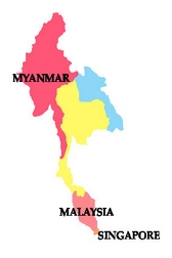 Territorial Leader: Colonel Hary Haran
Prayer requests:
With a slow pulse over the last two years due to covid pandemic, pray for the territory to make good progress with the Territorial Strategic Mission Plan 2020 to 2025 and keep "In Step with The Spirit".
Pray for the regional and district leaders to support their officers & soldiers with passion, teamwork, and skills to accomplish their God-given mission.
Pray for the Spiritual development of officers, corps leaders, and people with a fresh hunger for the Word of God and radical discipleship to grow into a healthy and mature Christian community that works diligently in the harvest for the salvation of the lost and to care for the poor and neglected.
Pray for the newly formed Malaysian 'unity government,' elected recently, to lead the country with social justice and able to provide a strong safety net for the vulnerable, the poor, and the marginalized in the face of the weakening currency (Ringgit), rising prices of food and medicine, and shortage of resources.
The economic recovery of all nations, in the territory, with wise political and entrepreneurial leaders to navigate prudently in the face of global uncertainties and challenges.
Giving thanks to God for sustaining safe and healthy lives during the present difficult situations in Myanmar and enabling Salvationists to continue their ministries. Pray for God's hand to be upon the corps officers facing communication problems and threatened by unsafe/unhealthy environments and starvation.
Pray for good completion of building/mission projects in Myanmar.
Pray for young people and youth in Myanmar to find hope in Christ and God will open doors for them to have a better education system and job opportunities.
Pray for the registration process and approval to be expedited for the Salvation Army work in Thailand.
---
Requests will be prayed for in our Prayer Room and distributed through our Prayer Chain. Requests can be made anonymously.
---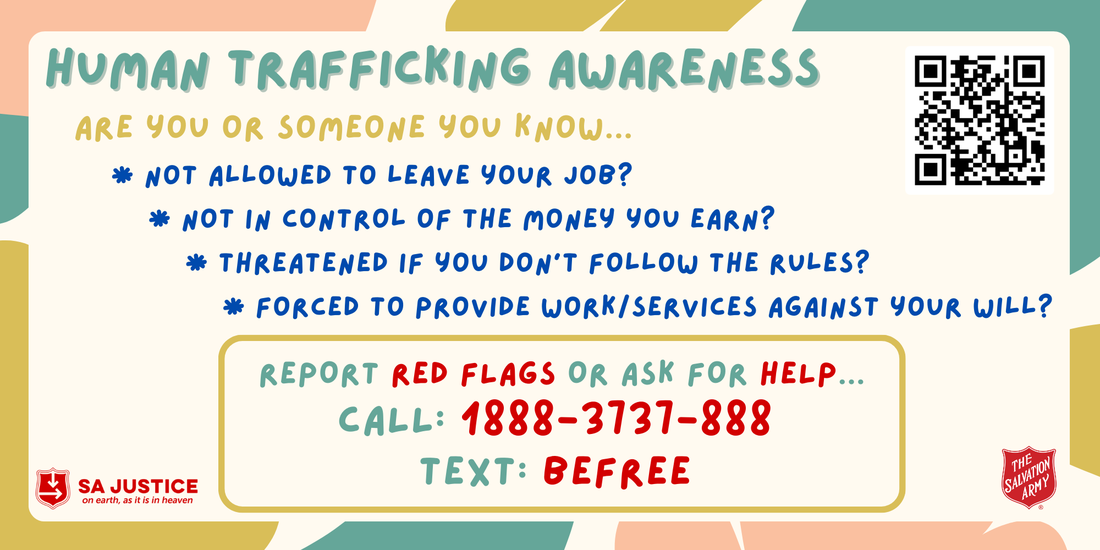 ---
---
Click Here To Get to the Tith.ly App
You can make a tithe payment, give an offering, or donate towards the World Services fund.
---
---
The Salvation Army Concord Corps
3950 Clayton Road, Concord, CA, USA
annmarguerite.jones@usw.salvationarmy.org
(925) 676-6180