This Week's Schedule
SUNDAY
09:30 AM - Praise & Worship Practice - Chapel 10:00 AM - Adult Sunday School - Library 10:15 AM - Prayer Group - Prayer Room 11:00 AM - Worship Service - Chapel 12:15 PM - Food and Fellowship - Fireside Room 12:30 PM - Youth Music Rehearsals - Chapel
MONDAY
10:00 AM - CAMEO's Quarterly Planning Meeting - Library
TUESDAY
6:00 PM - Men's Bible Study - Fireside Room Note: Major Ann's Bible Study will resume in the fall. 7:00 PM - Songsters Practice - Chapel 8:00 PM - Senior Band Practice - Chapel
WEDNESDAY
10:00 AM - CAMEO: Niles Canyon Trip Note: Please bring a packed lunch or money to buy lunch.
FRIDAY
12:00 PM - Delegates leave for Men's Retreat
SATURDAY
10 AM - 3 PM - Corps Cadet Study Hall - Jones' House
NEXT SUNDAY, May 28
There will be a $10 donation for the meal that will be served after the service. This fundraiser will support Rhys' Mission Trip to South Korea.
---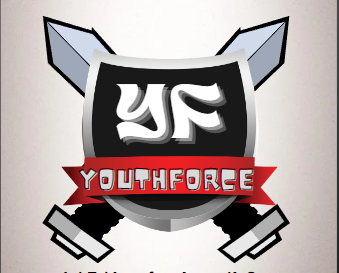 YouthForce Members - Pay attention to the group texts or YouthForce Facebook Page to find out details for the next fellowship.
Find Joy!
First-Ever Salvation Army Adaptive Retreat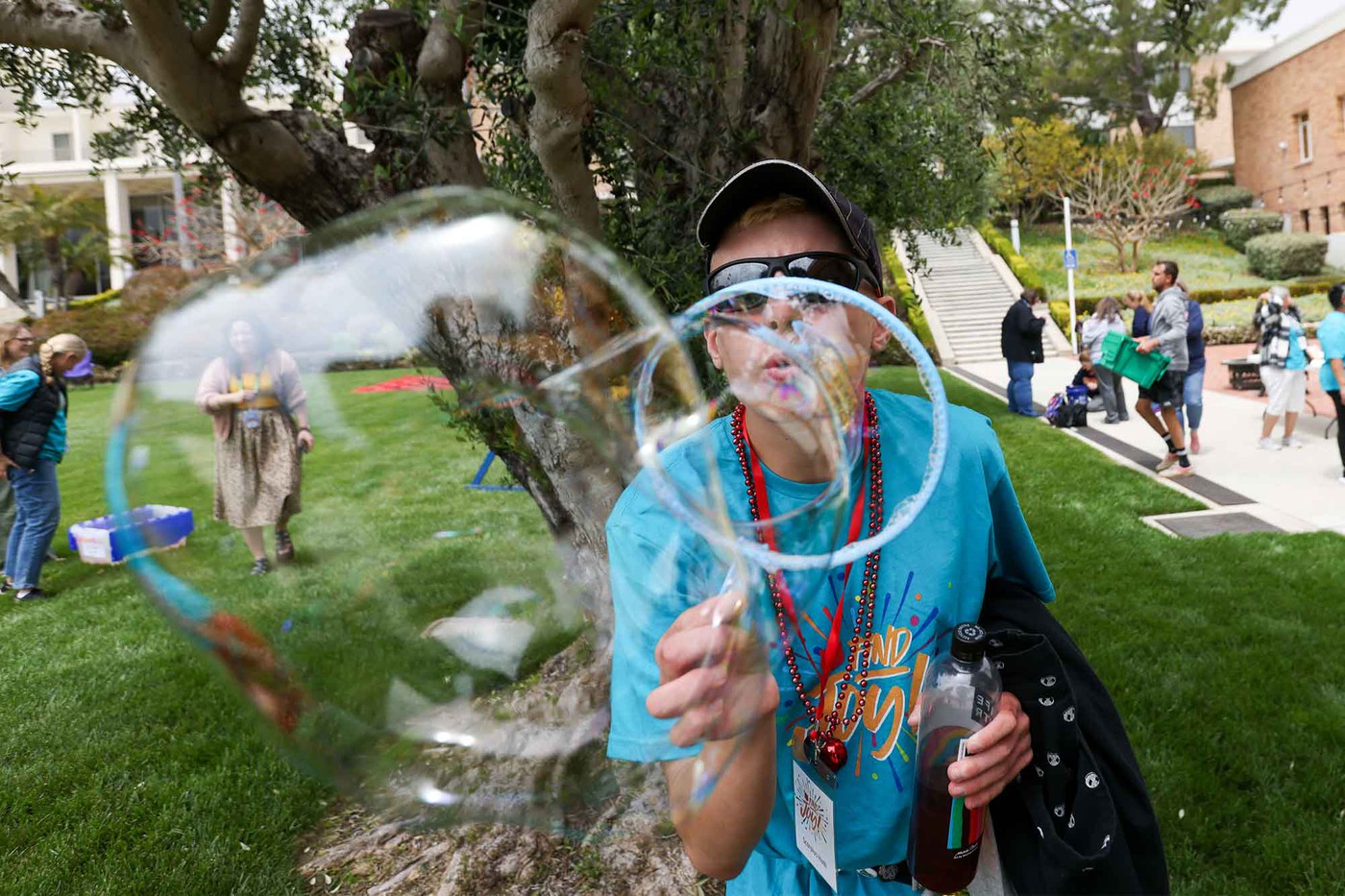 Colors and shouts filled the chapel at the College for Officer Training (CFOT) at Crestmont in Rancho Palos Verdes, California, on April 28 as a group of about 60 individuals joined in worship. Coming from as close as down the street to as far as Brooklyn, New York, attendees used egg shakers, ribbons, and colored scarves to fuel the celebration.
The gathering marked the beginning of the inaugural Adaptive Retreat, a weekend specifically designed for young adults with disabilities and their chaperones to provide a space for all to feel welcome.
Territorial Disabilities Ministries Director and Spiritual Formation Resource Officer Major Nancy Helms organized the weekend to not only include but celebrate those who are sometimes pushed to the sidelines.
"It was exciting to plan and implement this necessary gathering," she said. "It is the first time the Western Territory has provided a retreat specifically for young adults with varied cognitive, neuro, and physical needs, where they were welcomed and belonged to something their typical peers experience regularly."
The weekend was filled with activities aimed at attendees to experience joy. On Friday night, delegates sang campfire songs and roasted marshmallows, faces lit by a toasty fire pit. Saturday morning, each attendee received an award for participation in a field day—accompanied by a Kona Ice Truck, face painting, and yard games. Saturday night, the campus Terrace Room was transformed into a movie premiere, where individuals were interviewed by the "paparazzi" and participated in dancing and karaoke.
In the final worship session on Sunday morning, Helms emphasized how the church often allows for archetypal style to become more valuable than the assurance of belonging for the people in attendance. While many may feel accessibility and creating a space for individuals with disabilities to belong is difficult, it's clear through Scripture that it's a commandment.
Jesus calls Christians to live a life of love, which means putting others above yourself, she said. Making the church accessible is essential to the mission of a Christian. Finding ways to love all people, including those with differences in ability, is a requirement. Change, while uncomfortable, is essential for growth. The church must look at its current state and critique its understanding of an "invitation to all." When the term all is used, is it true?
"We hope and pray the retreat was a catalyst for change in The Salvation Army, and that more and more opportunities become available for individuals with varied disabilities to find a place where they can thrive and belong," said Helms.
She noted that not only should the church want those in its congregations to feel welcome, but there should be a desire for discipleship and growth. This does not change when the attendee has physical, cognitive, or neurological differences.
Many who attended or supported this event left with a full heart and desire for change. The hope is to see a church with the heart of Jesus, finding ways to highlight and value everyone. Austin, a delegate from Northwest Division, put it best when he shared in the final session, "Why haven't we been doing this my whole life?"
Summar Bussey
Save the Date
Divisional Men's Retreat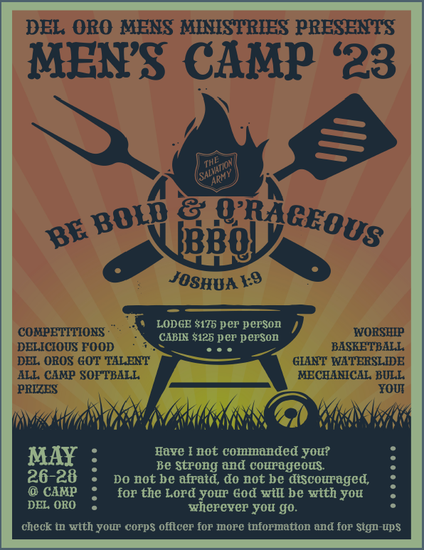 May 26-28, 2023 Camp Del Oro $85 (To include housing in the lodges, t-shirt, transportation, and meals.)
On Saturday night, May 27th, they will be having the first Del Oro's Got Talent! show with prizes awarded to the winners. All acts are welcome - groups, single acts, comedy, music, dance, and magic.
See Major Gwyn Jones to register. Registration is due May 5th.
---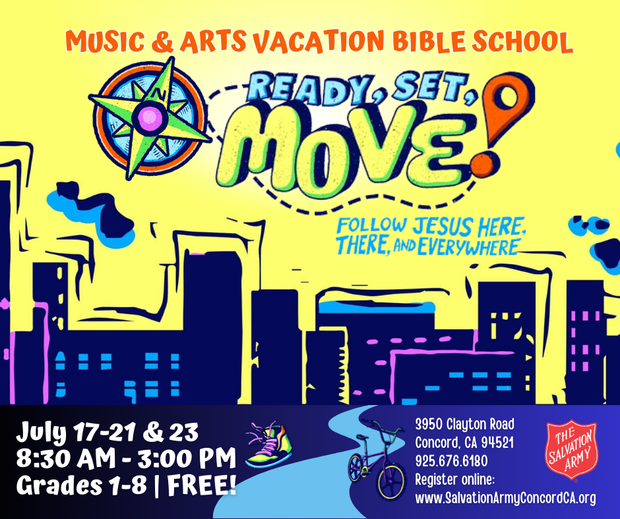 Register your child(ren) for VBS here.
---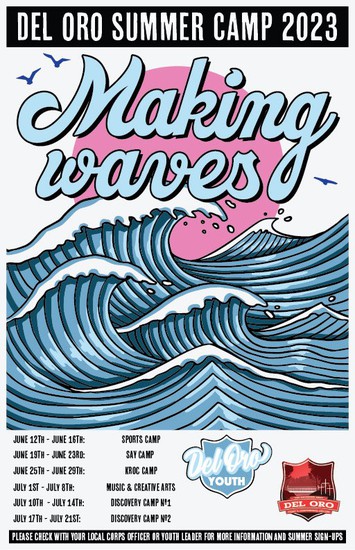 If you are interested in attending, please let Major Ann know. Registration is due 2 weeks prior to the start of each camp session. Although summer camp runs through most of the summer months, we have committed to 3 camp sessions (2 overlapping dates). See attached flyer for information.
mailto:annmarguerite.jones@usw.salvationarmy.org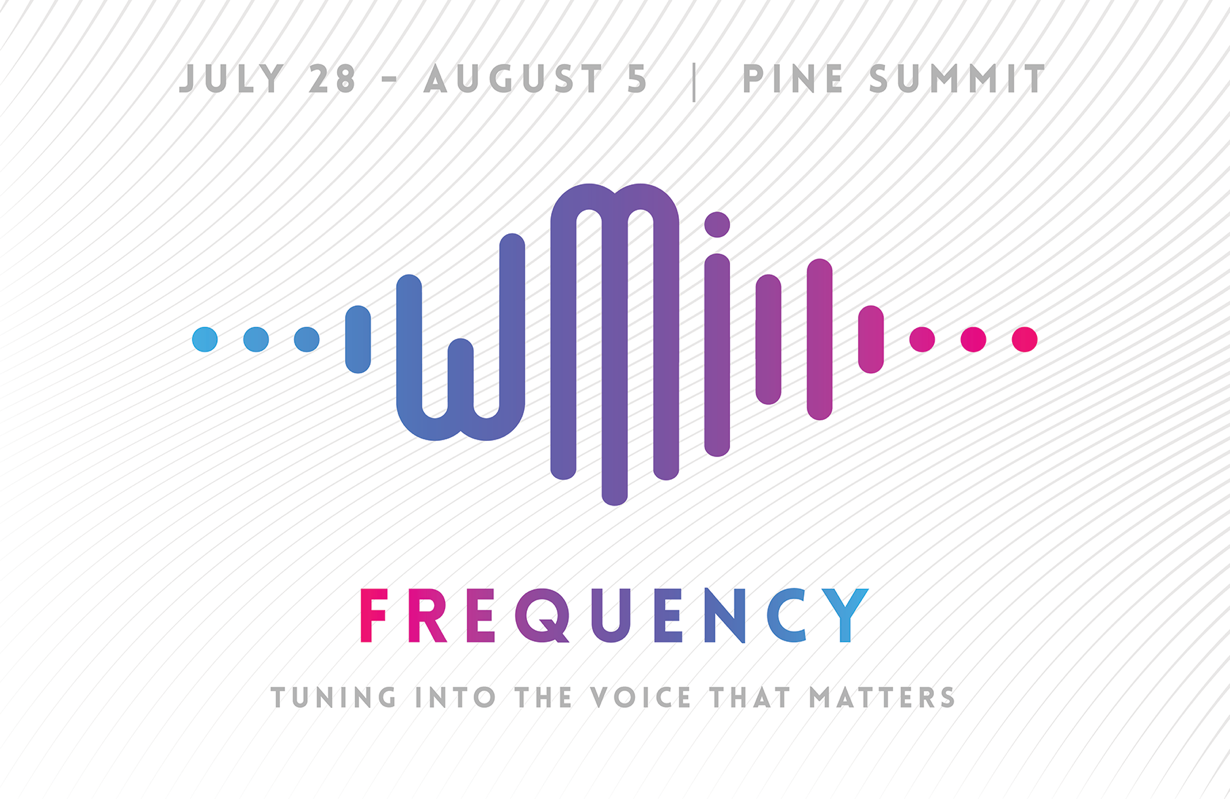 Western Music Institute July 28th - August 5th Pine Summit Camp, Big Bear, CA Sign up by May 31 to receive a discount.
Click here to apply: http://wmiapp.usawest.org
---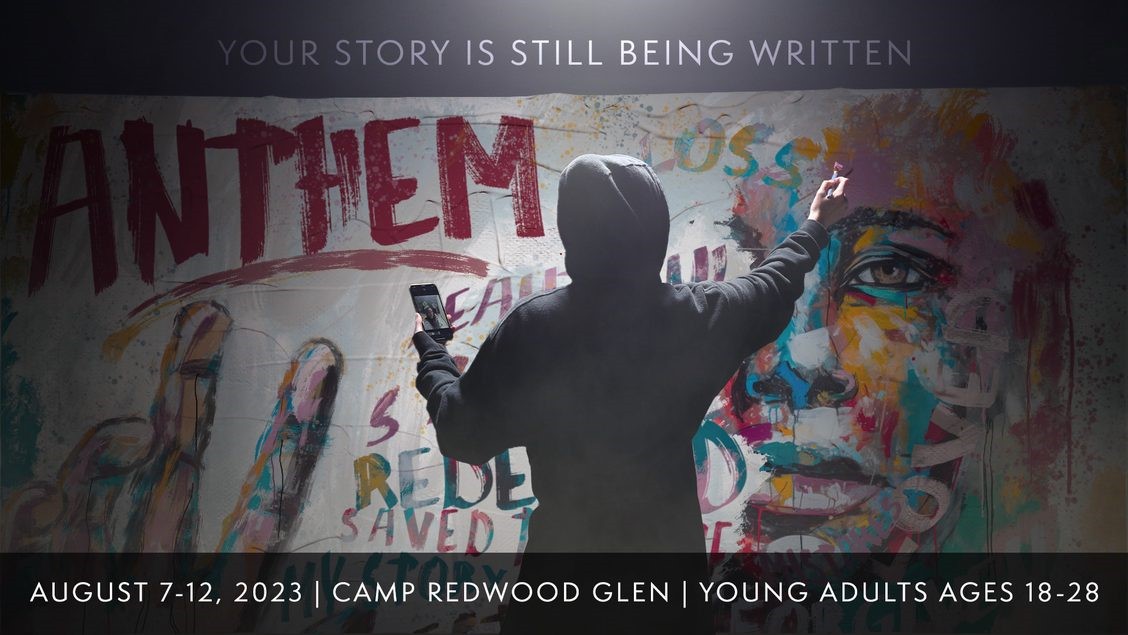 August 7-12 Camp Redwood Glen, Scotts Valley, CA Registration opens next week
Anthem (formerly known as WYI), is a week-long event for young adults, ages 18-28 that fosters a space for participants to explore the story of Jesus and learn how it intertwines with their own stories and the stories of others.
Anthem is more than an event. Anthem is a safe place for young adults to experience community and discover what it means to live out the story of Jesus in their own lives
Anthem seeks to create a space where delegates feel empowered to worship freely.
Our goal is that attendees feel welcome at Anthem and to come as they are to worship Jesus.
Our anthem is Victory over sin. Our anthem is Communion with God and His creation. Our anthem is praise to the creator God for His love, power, and glory.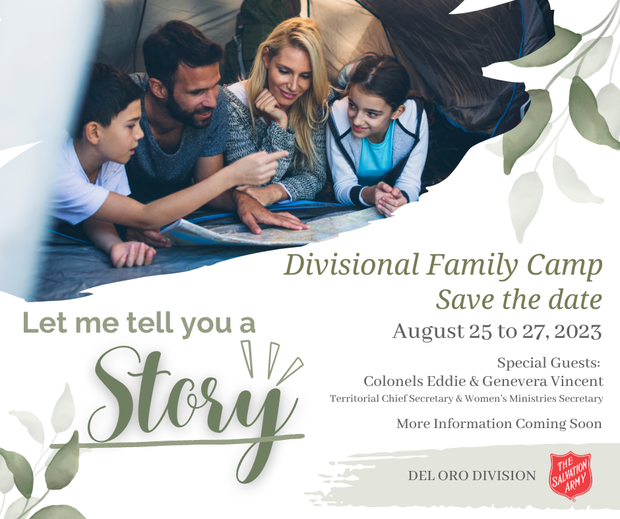 International Prayer Focus
This initiative of turning our thoughts and prayers towards the same part of the world at some point in the same week is a beautiful way to unite us as a global Army family and I thank you for the commitment you each give to this.
Hong Kong and MacauTerritory
Territorial Leaders: Colonels Phil and Deslea Maxwell
Prayer Requests:
Pray for the Government of Hong Kong and the Government of Macau to move forward after COVID-19. Pray for the Territory to move forward and reconnect with Mainland China after COVID-19. Pray for officers and soldiers to be creative in ministry for the future. With more officers retiring in the next three years, pray for soldiers who will listen and obey God's calling for ministry. Pray for the Leadership Team to have wisdom on continued challenges towards better governance and clear long-term strategy. Pray for the physical and spiritual health of active and retired officers.
Praying for Leaders: A Prayer for Servant Leadership
Lord,
We thank you because you have raised up, anointed, and appointed people to serve and lead your Church.
What an honor and privilege it is to be entrusted with this responsibility.
Reassured by the knowledge of your abiding presence, may our leaders continue to have the courage to reach out and support one another, to stand firm in what is true, to decrease when others should increase, and to lead with vision and compassion.
Lord, we thank you for your enduring presence and perfect wisdom that illuminates the thoughts, decisions, and actions of our leaders, and for your endless patience, compassion, and love.
Help our leaders to remain focused on you, to live, and to lead as humble, grateful, assured, and generous servants.
To live and to lead as an example.
To live and to lead as faithful followers of Jesus.
As we pray for our leaders, we also pray this prayer for ourselves.
In our relationships with one another, help us to have the same mindset as Jesus who, despite being in very nature God, humbled himself to full humanness. To serve others. Not for personal gain but so that others would know you.
By your grace, may our example, our words, our actions and our reactions point people to you too.
Help us Lord, we pray!
AMEN
May the Lord bless you as you bless others through your intercessions on their behalf.
Prayer Requests
Requests will be prayed for in our Prayer Room and distributed through our Prayer Chain. Requests can be made anonymously.
---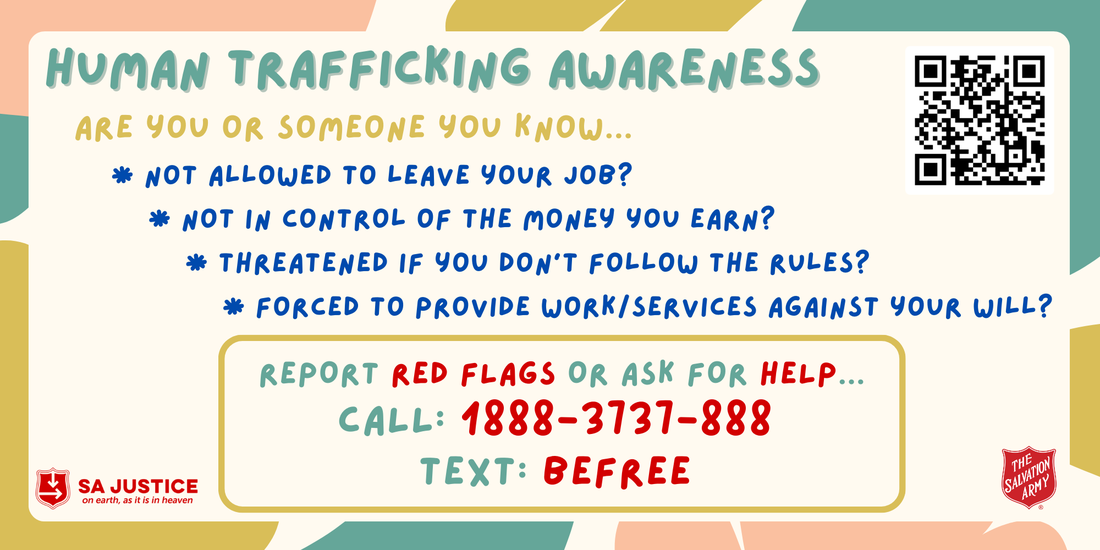 ---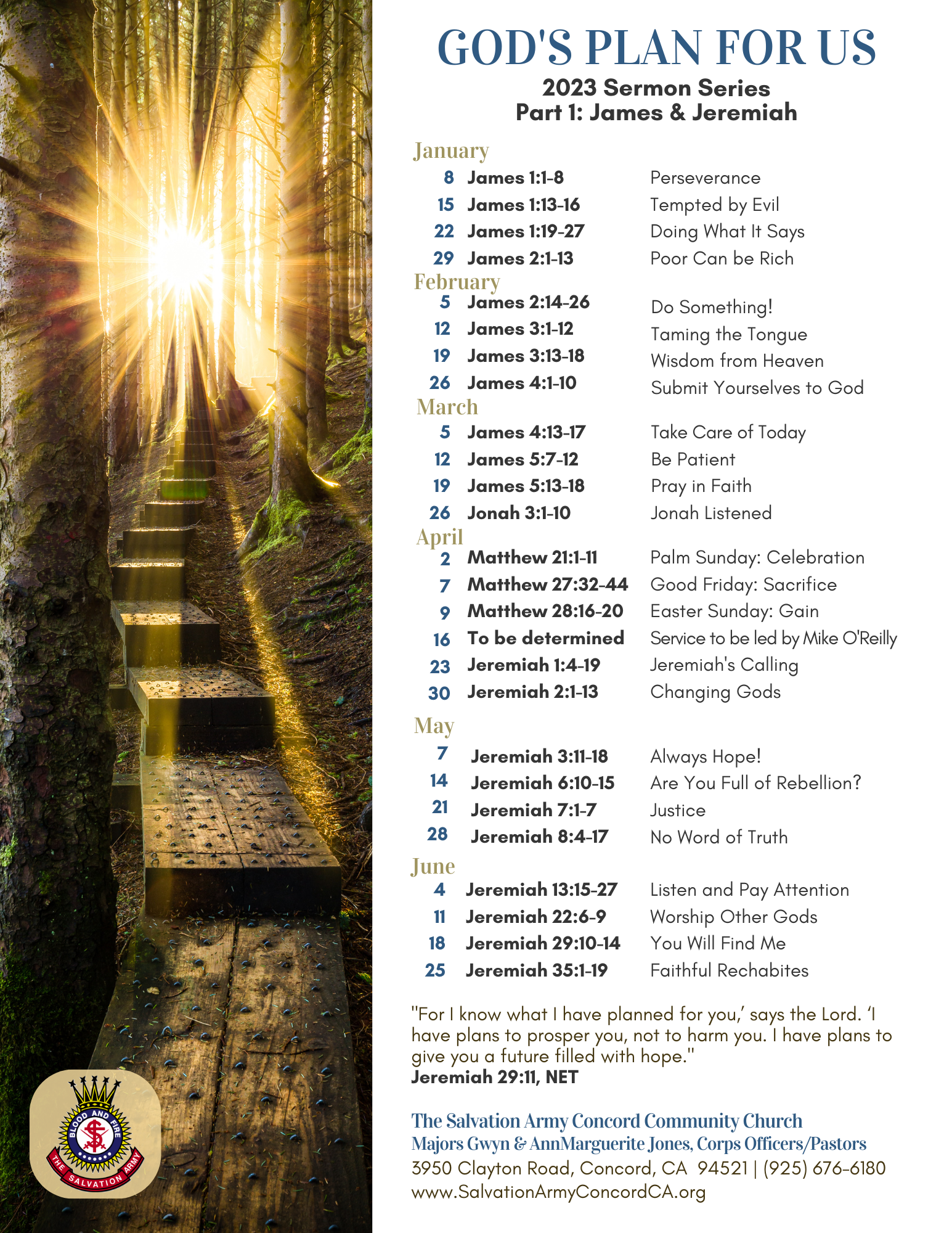 Click Here To Get to the Tith.ly App
You can make a tithe payment, give an offering, or donate towards the World Services fund.