Teens Share Retreat Experiences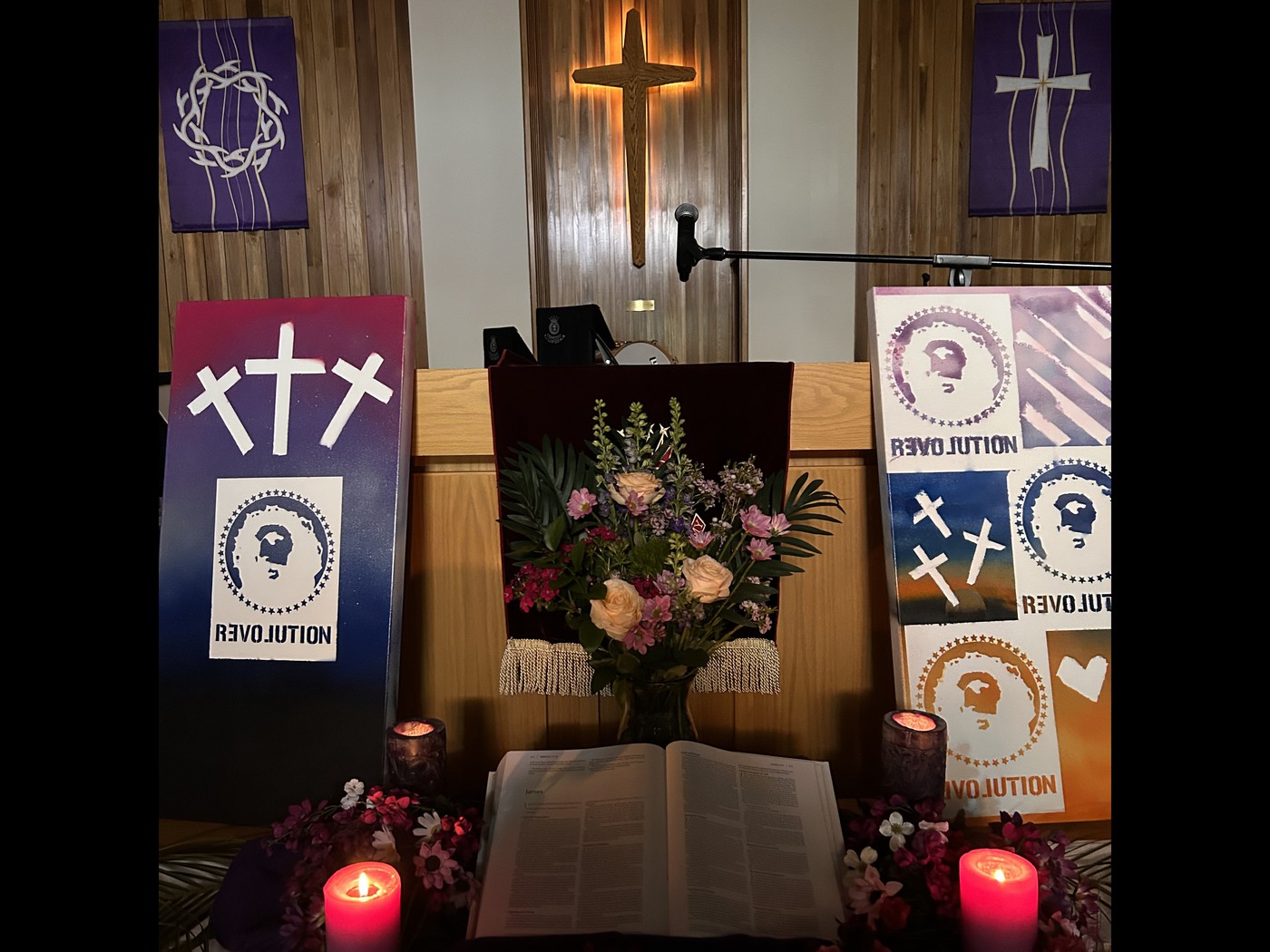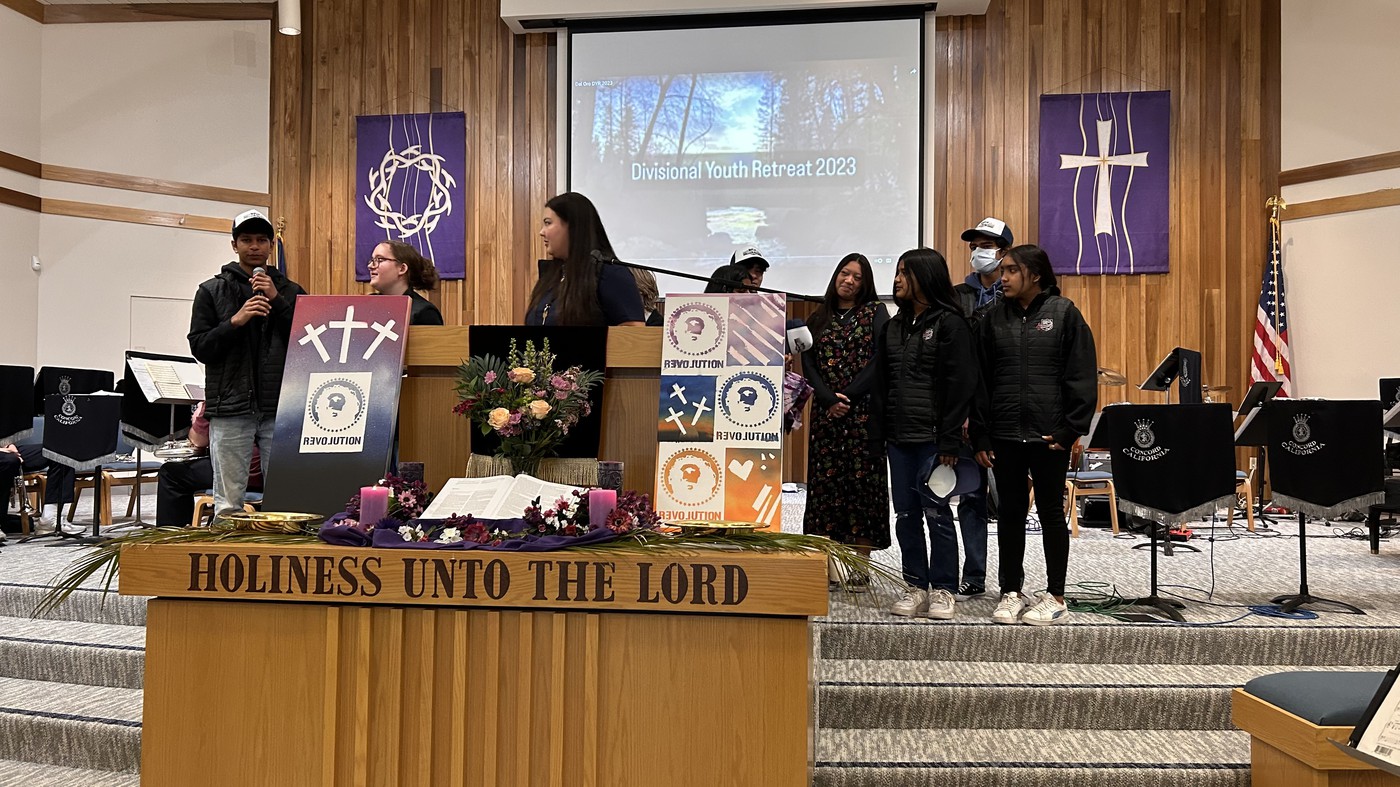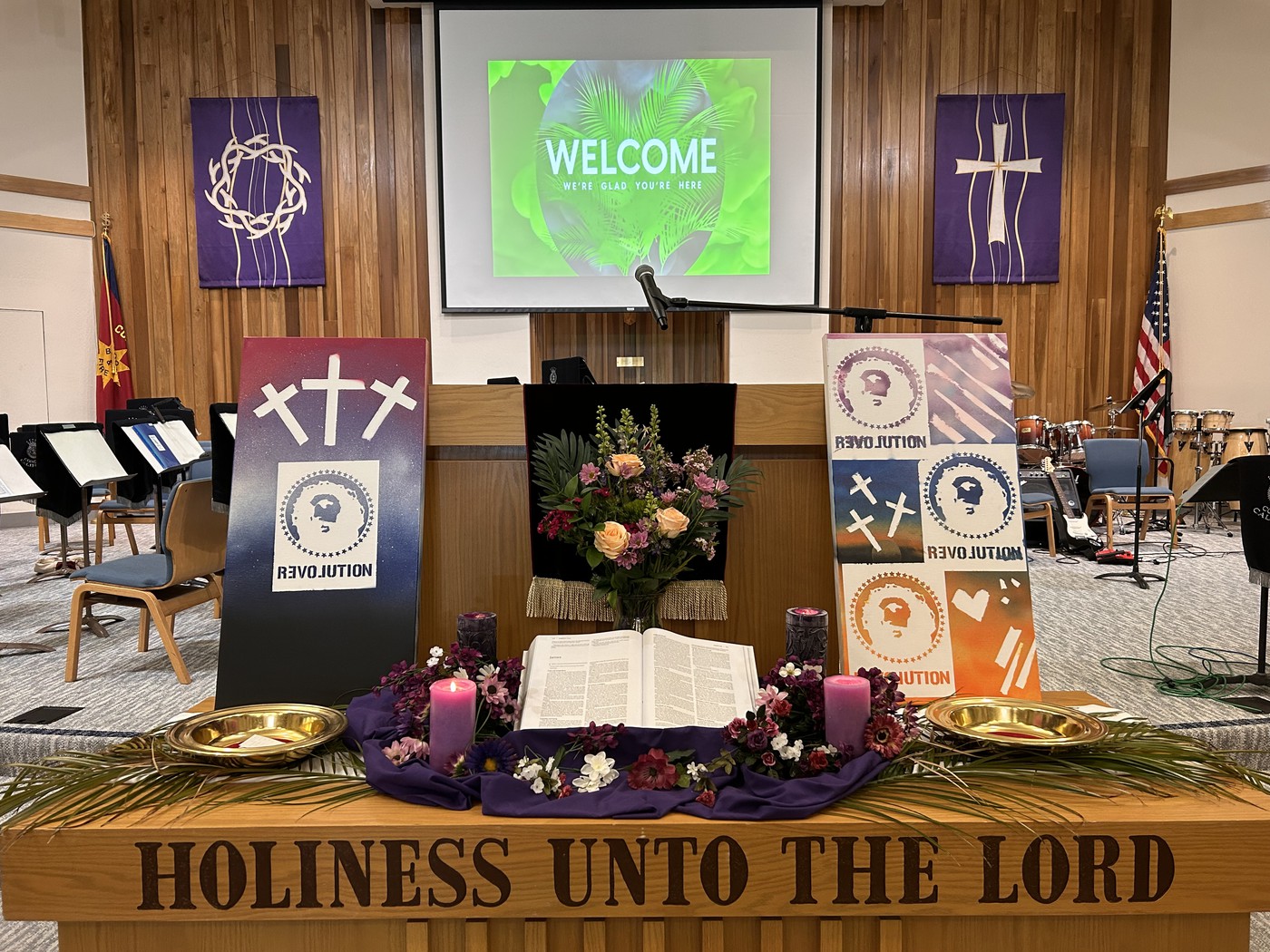 CAMEO's Jelly Belly Tour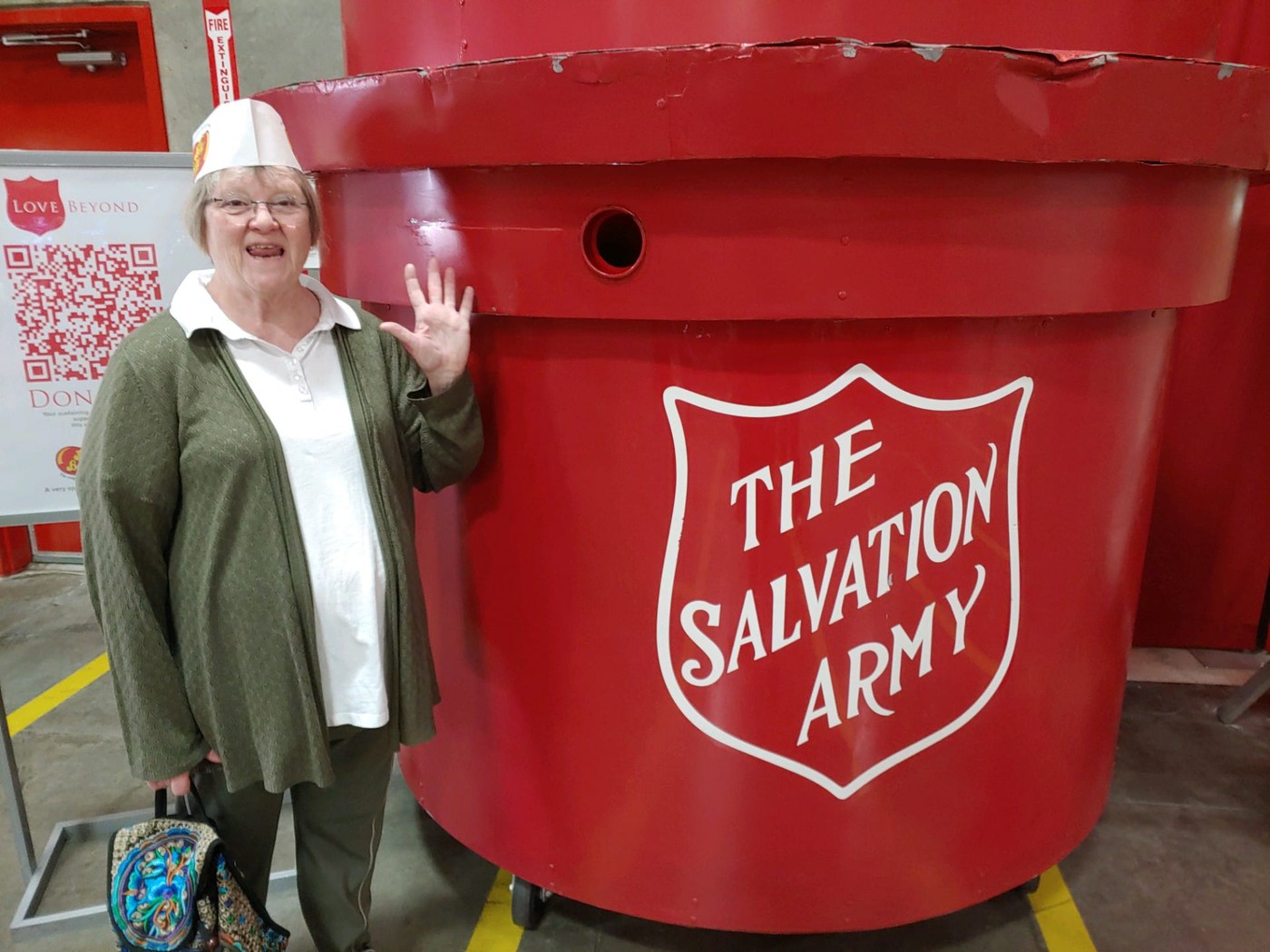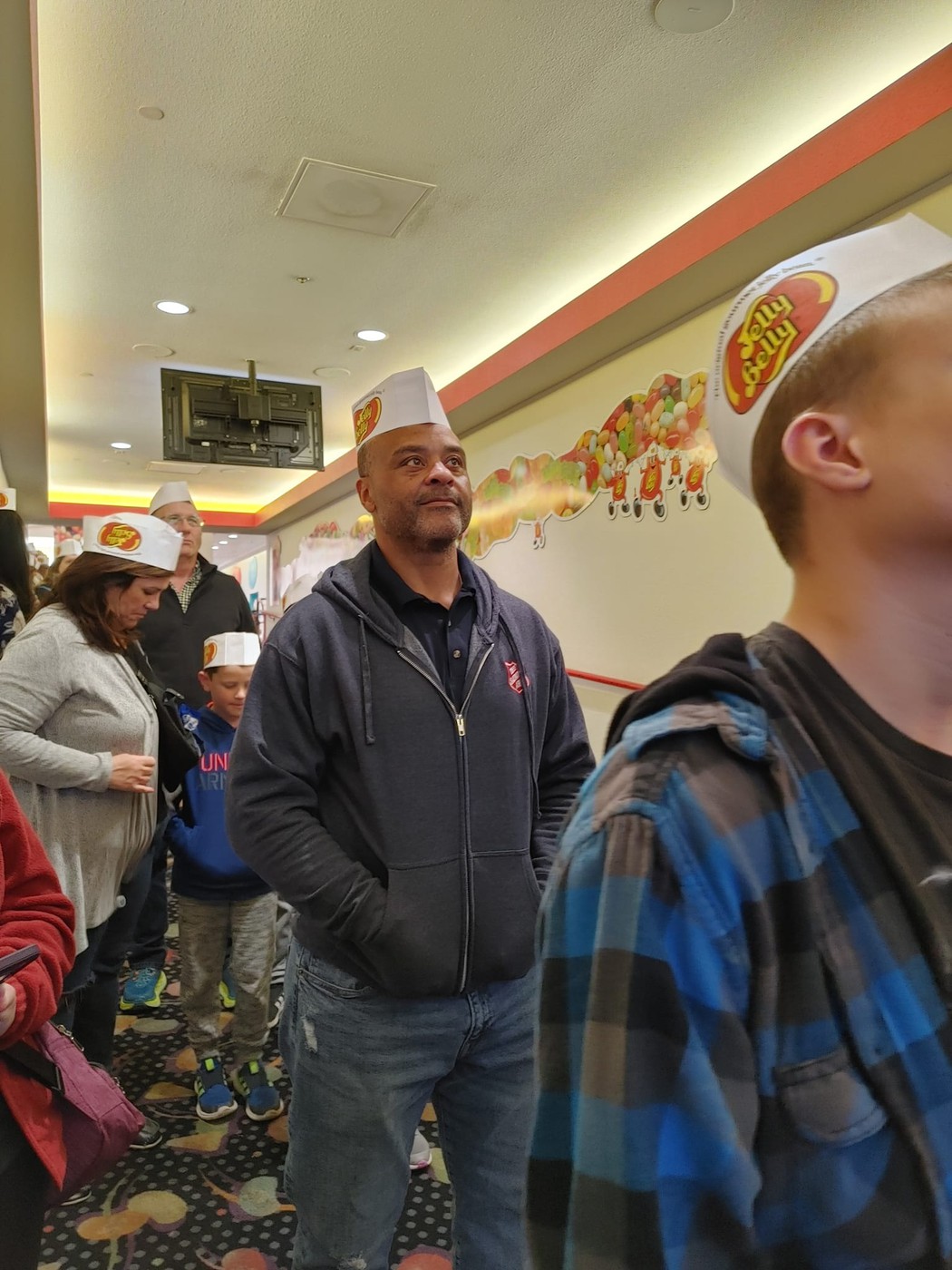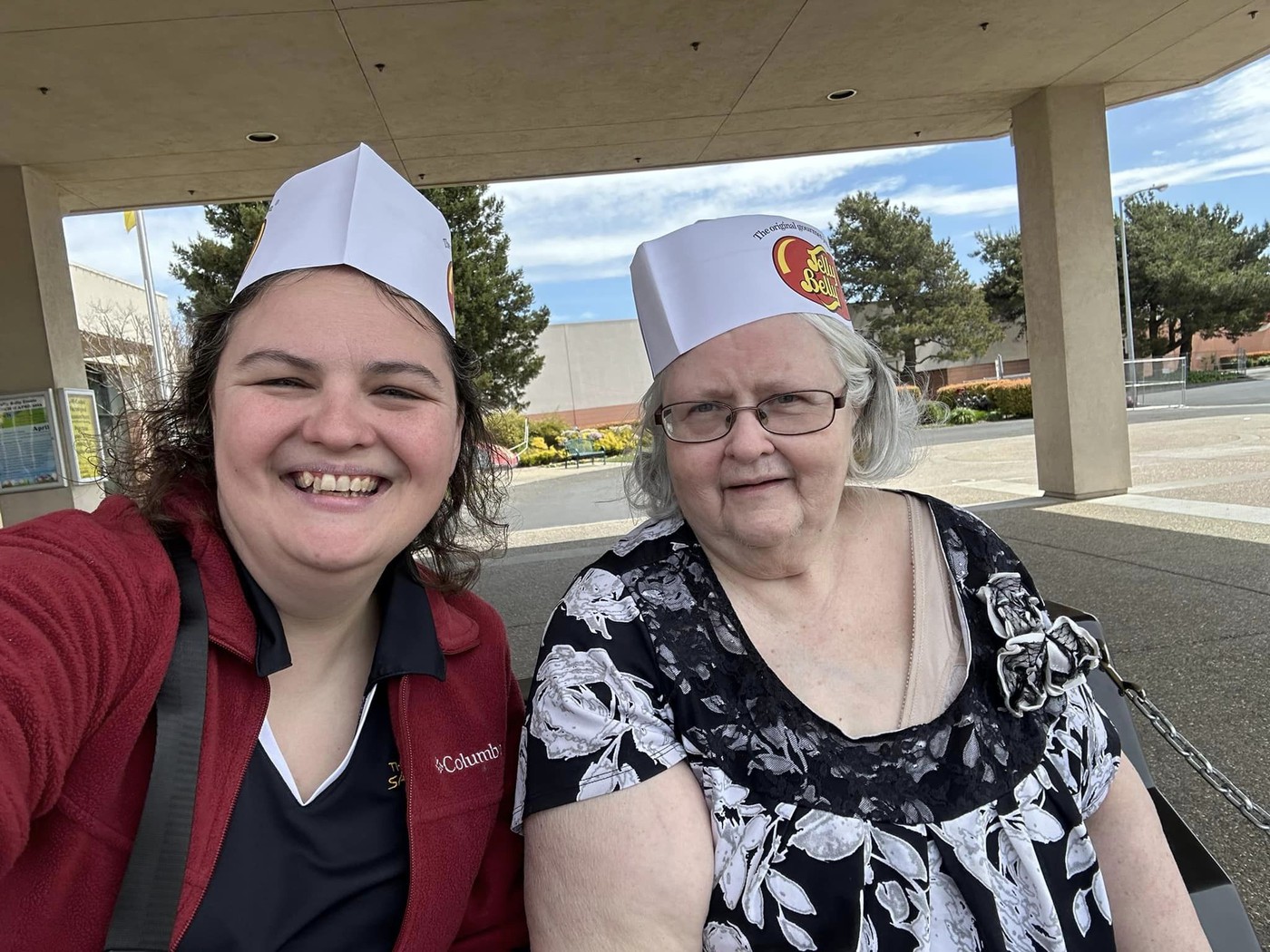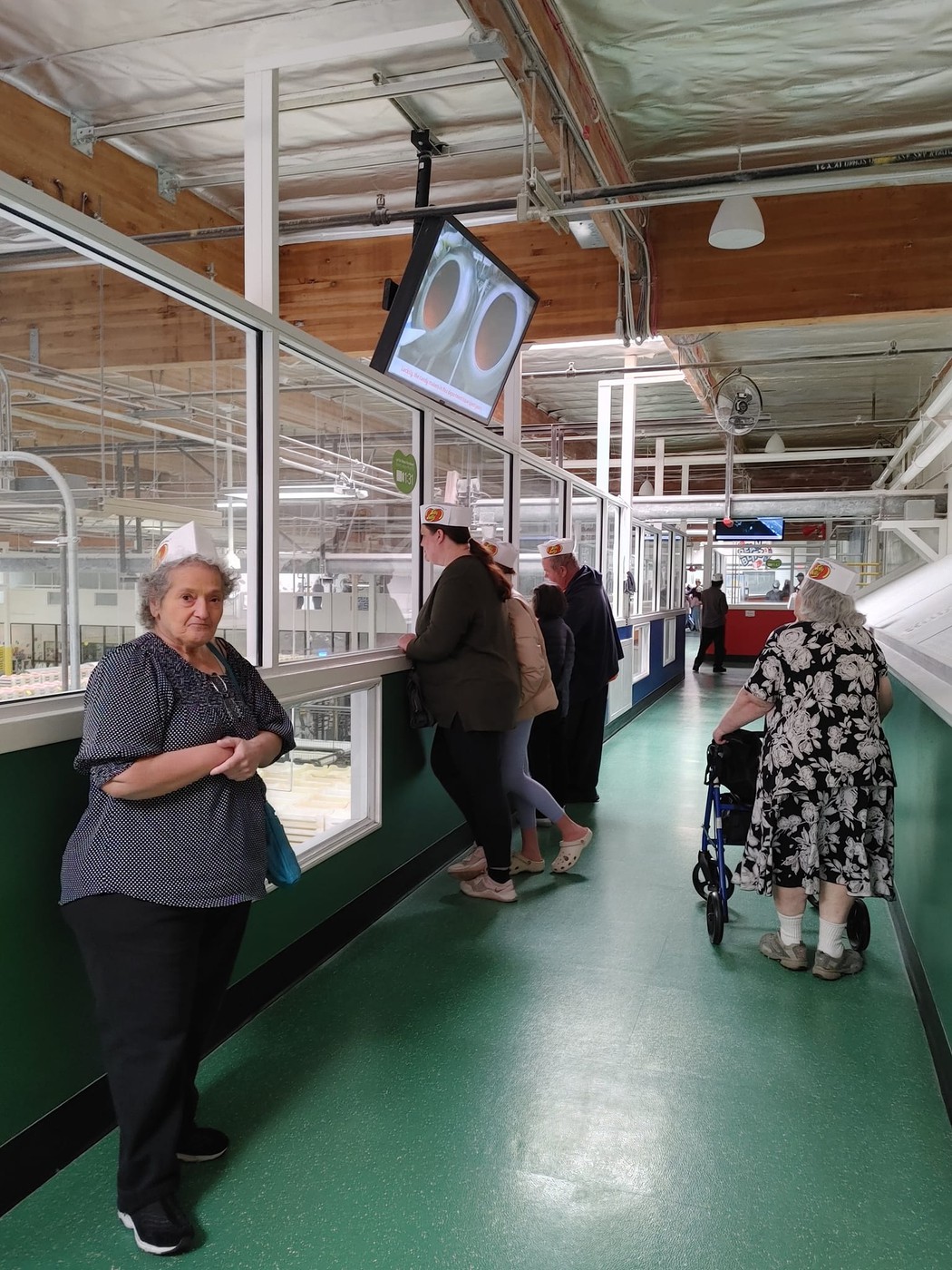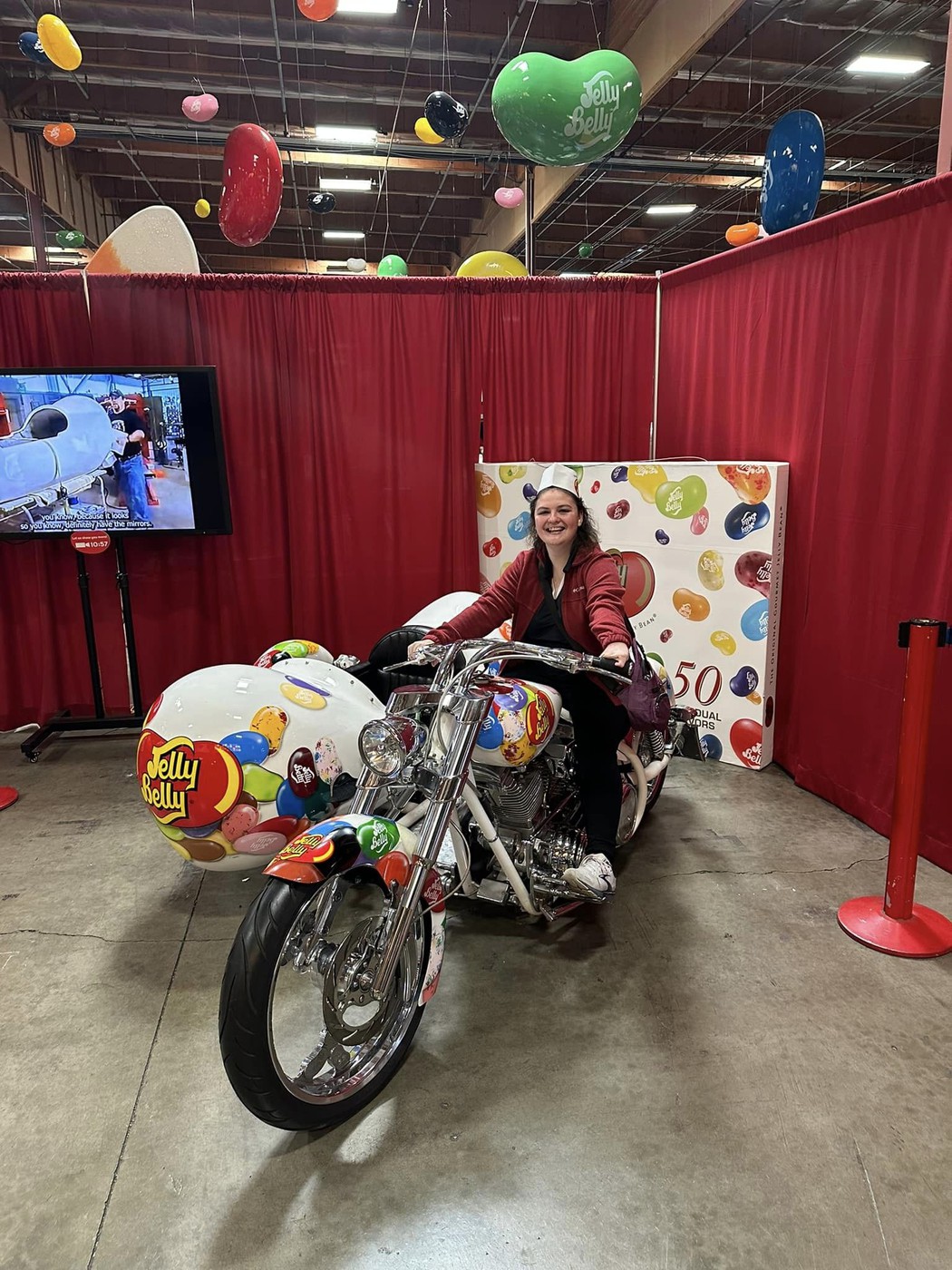 This Week's Schedule
EASTER SUNDAY
8:30 AM - SonRise Service - Garden (Entrance is beside Cindy's office) 9:30 AM - Hot Breakfast - Fireside Room (If you would like to bring breakfast items to add to the menu, please feel welcome. The men are preparing biscuits, gravy, sausages, scrambled eggs, and juice.) 10:15 AM - Prayer Time - Prayer Room 10:30 AM - Prelude of Easter Music will begin - Chapel 11:00 AM - Easter Sunday Worship Service - Chapel 12:15 PM - Food & Fellowship - Fireside Room (We will not be serving a meal as usual, however, we will have a cake to celebrate Majors James & Laura's 35th Wedding Anniversary.) NOTE: No youth music rehearsals after church so that you can enjoy family time.
TUESDAY
6:00 PM - Men's Bible Study - Fireside Room 6:00 PM - Bible Study: The Ten Commandments - Hybrid (Library & Zoom) 7:00 PM - Songsters Practice - Chapel 8:00 PM - Senior Band Practice - Chapel
WEDNESDAY
10:00 AM - CAMEO: Shout Out! Resurrection Rocks - Fireside Room
FRIDAY
6:30 PM - YouthForce (Teen Fellowship) - Fireside Room
SATURDAY
5:00 PM - Worship Concert - Chapel
NEXT SUNDAY
Mike O'Reilly will be leading the worship service and preaching while Majors Gwyn and AnnMarguerite Jones will be traveling to Officers' Councils. Plan on coming to give him support.
Save the Date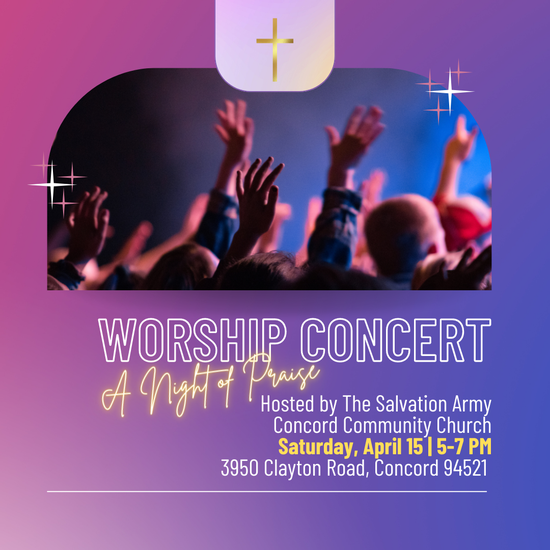 Divisional Women's Retreat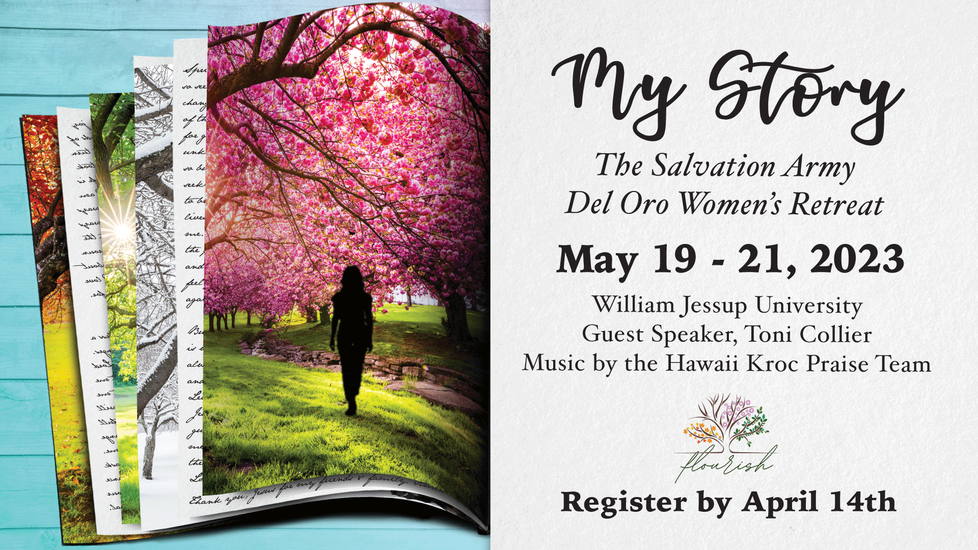 May 19-21, 2023 William Jessup University $85 (The total cost is $175. This includes your t-shirt, meals, transportation, and lodging.)
We are excited to announce that "My Story" is the theme for our 2023 Divisional Women's Retreat! Our Women's Department is planning an unforgettable weekend filled with workshops, games, free time activities, a banquet, and much more. We will have with us a praise team from Hawaii Kroc Center. Our guest speaker is Toni Collier. She is the founder of Broken Crayons Still Color, an international women's ministry that helps women process their brokenness and reclaim hope. We cannot wait to hear what God has done throughout your story. The weekend theme verse comes from 2 Timothy 1:3-11 and the theme song is "God is in the story."
Saturday night will be our formal dinner! We encourage you to dress up with a fancy hat. The banquet will focus on how we women wear many different hats.
See Major AnnMarguerite if you want to go and select your workshops.
Registration is due April 14th.
Divisional Men's Retreat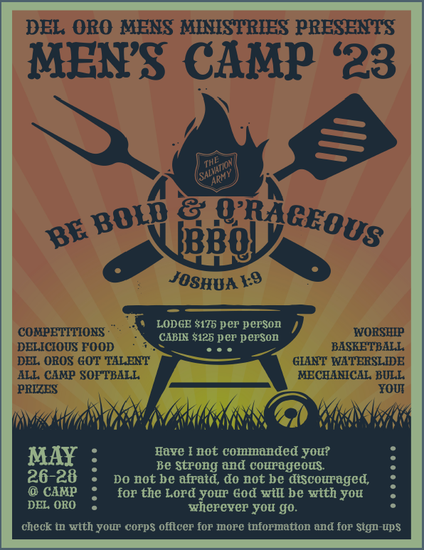 May 26-28, 2023 Camp Del Oro $85 (To include housing in the lodges, t-shirt, transportation, and meals.)
On Saturday night, May 27th, they will be having the first Del Oro's Got Talent! show with prizes awarded to the winners. All acts are welcome - groups, single acts, comedy, music, dance, and magic.
See Major Gwyn Jones to register. Registration is due May 5th.
---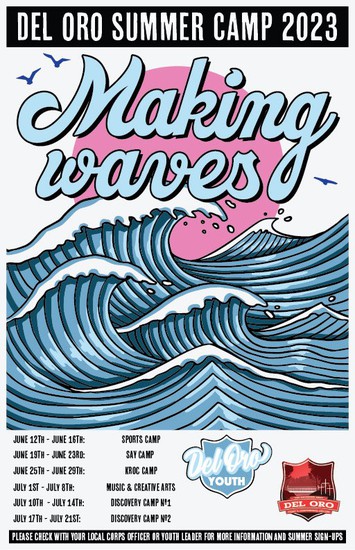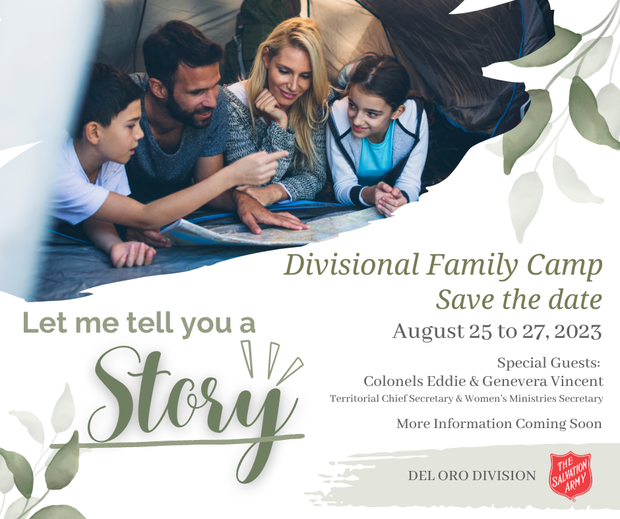 International Prayer Focus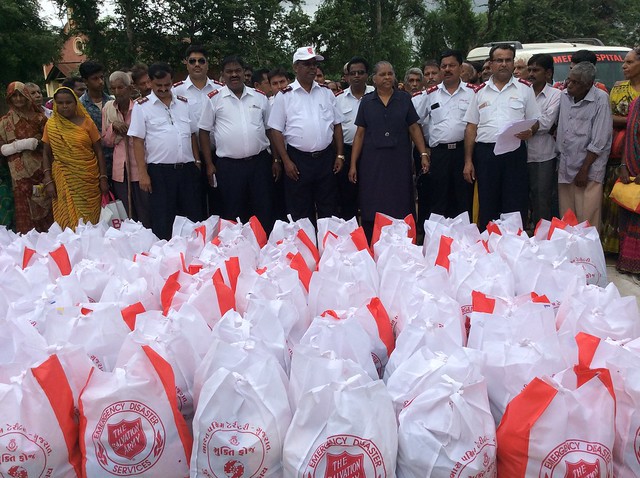 This initiative of turning our thoughts and prayers towards the same part of the world at some point in the same week is a beautiful way to unite us as a global Army family and I thank you for the commitment you each give to this.
Bangladesh Territory
Territorial Leaders: Lt Colonels Vanlalnungi and Zothanmawia
Pray for the visa-related complications of foreign officers working in Bangladesh to be resolved. Pray for all the ongoing activities of Bangladesh Command. Pray for the national elections that will be held later this year. Pray for all the leaders of the command to conduct all activities according to God's plan. Pray that all the officers, staff, and soldiers will work mission-oriented. This year our Command theme is "Bringing in the Sheaves." Psalm 126:6b. Pray for the fulfillment of this in the Command.
NOTE: A video of the Fairtrade SallyAnn Business in Bangladesh is included below for your information.
WEEK 9 - Focused Prayer for Those Leading Our Movement:
A Prayer for Families
God, our loving Father - Thank You for the beautiful gift of family, created from your heart because You designed us to journey through this life in community with others. We are grateful for every group of people we are blessed to call 'family'.
We offer prayer for the families of our leaders, thankful that you know them each by name and circumstance. Many of our leaders are serving in places separated from their own families and we acknowledge before you the sacrifice that this brings. We pray that you will provide good people to 'stand in the gap' when parents and grandparents are unable to be close by.
For any who hold a deep concern for the physical, emotional, or spiritual well-being of their children, grandchildren, or other family members, we ask for your divine counsel and peace to intervene. As well, for any necessary practical human support to be provided.
Along with appointment-related responsibilities requiring time, strength, and energy, our leaders also have families that need the same and we will often be completely unaware of personal burdens that they may be carrying. Remind us of this reality and give us sensitive spirits, we pray.
In your perfect timing, open the way for precious moments when our leaders can give their full attention to their families. And when it is time to take up their responsibilities again, may they know the blessing of release from those they love.
Thank You that You are intimately aware of the needs of every family – May you bless and protect them.
May you smile on them and be gracious to them.
May you show them your favor and give them your peace.
AMEN
May the Lord bless you as you bless others through your intercessions on their behalf.
Prayer Requests
Requests will be prayed for in our Prayer Room and distributed through our Prayer Chain. Requests can be made anonymously.
---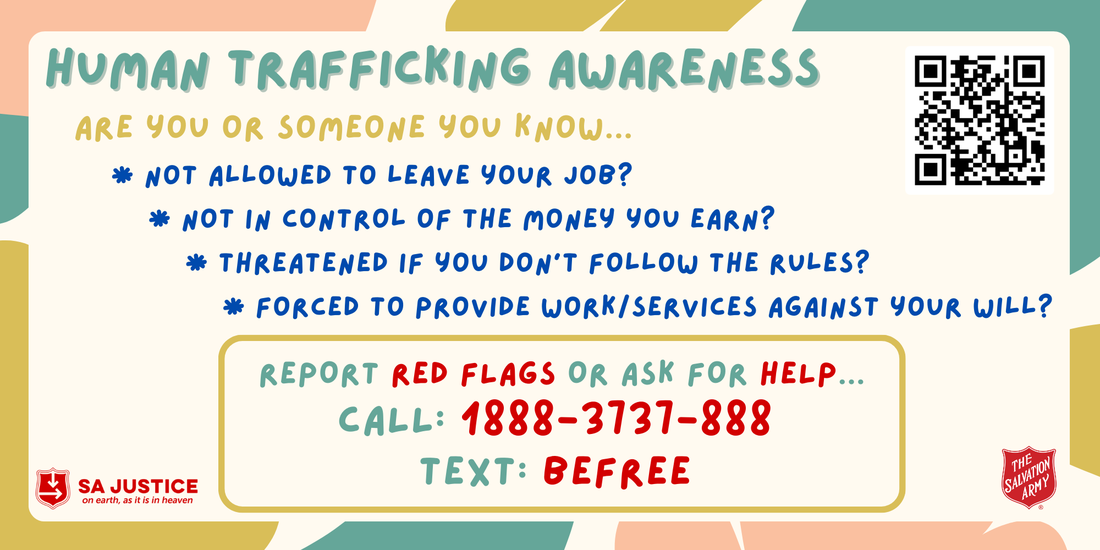 ---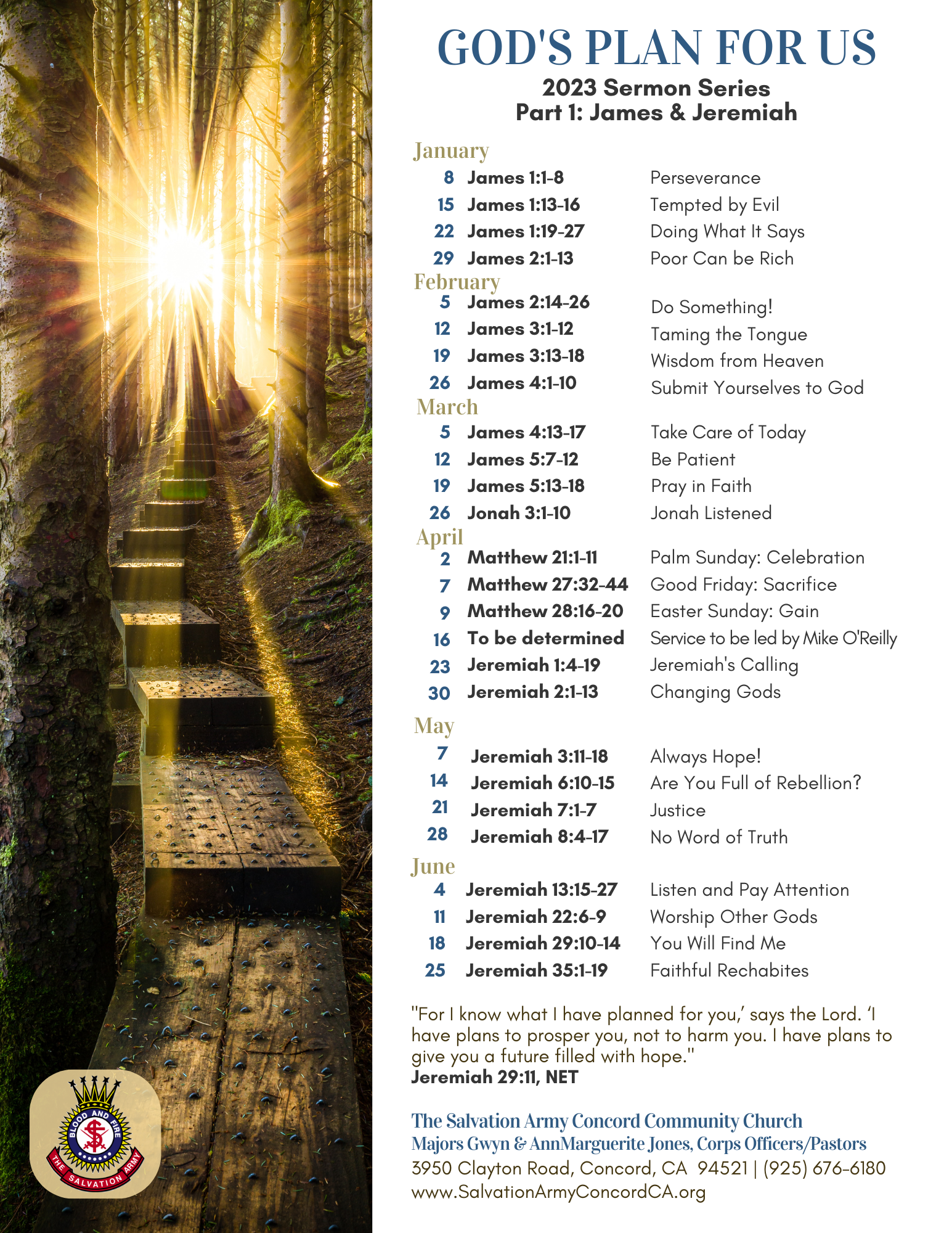 Click Here To Get to the Tith.ly App
You can make a tithe payment, give an offering, or donate towards the World Services fund.