Worship Concert with Christ Church India
Del Oro Brass and Chorus Ministry Weekend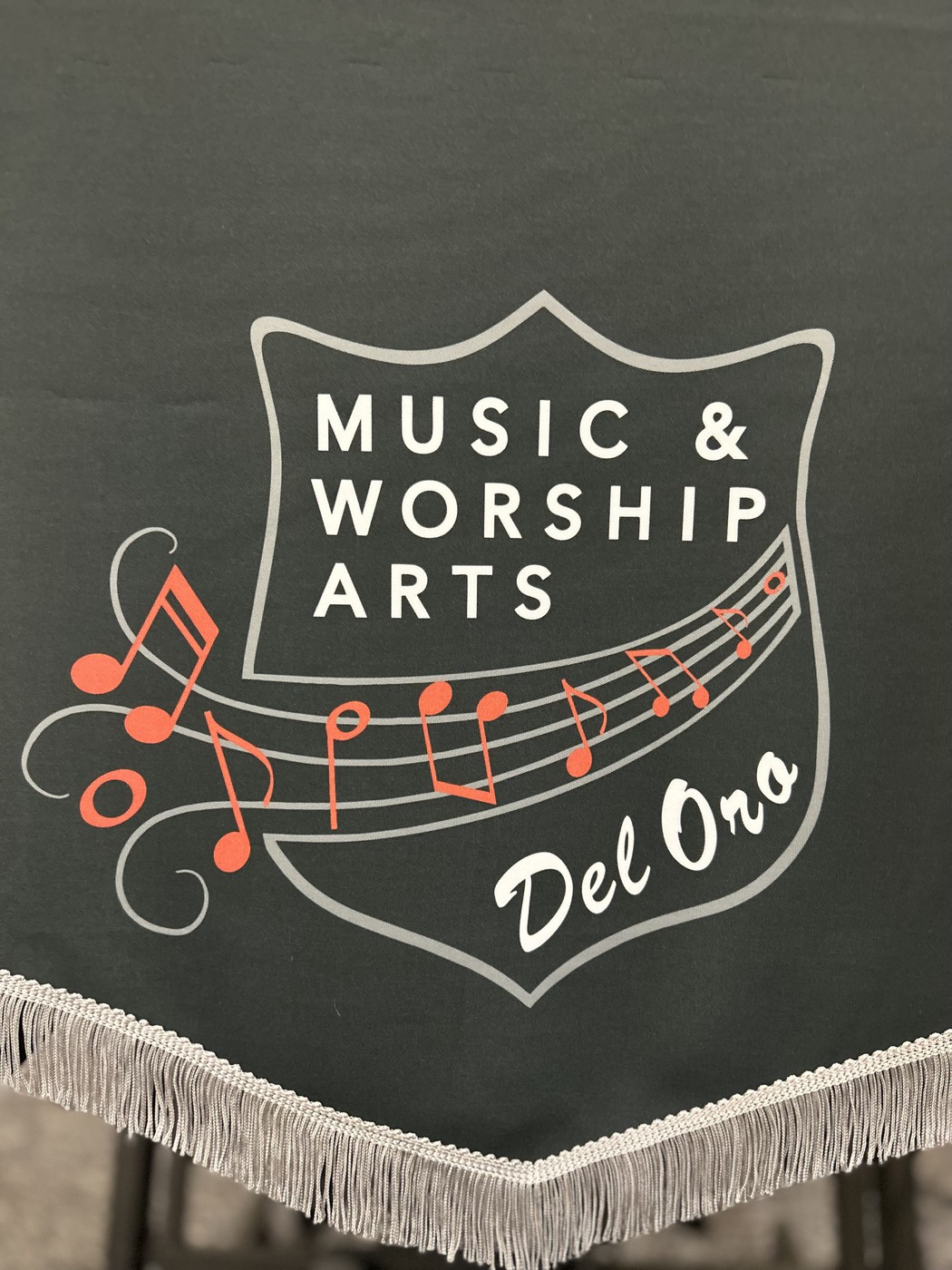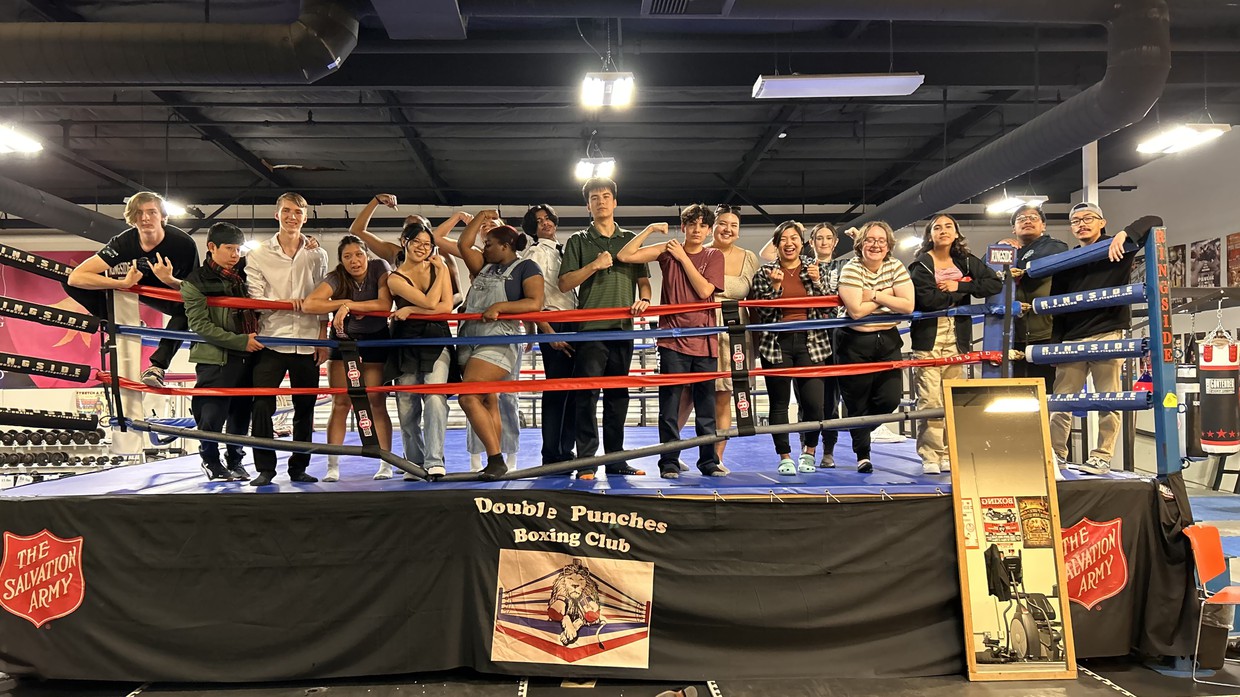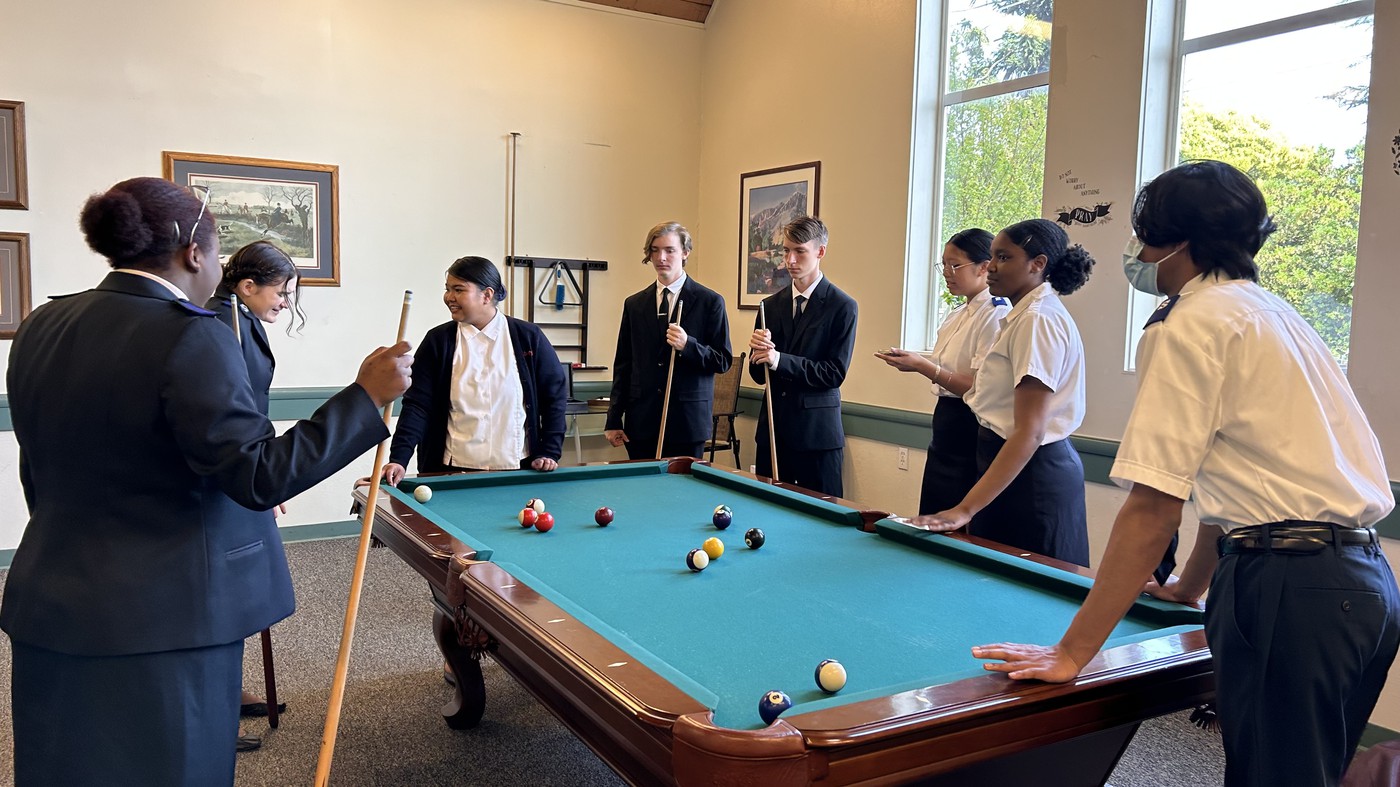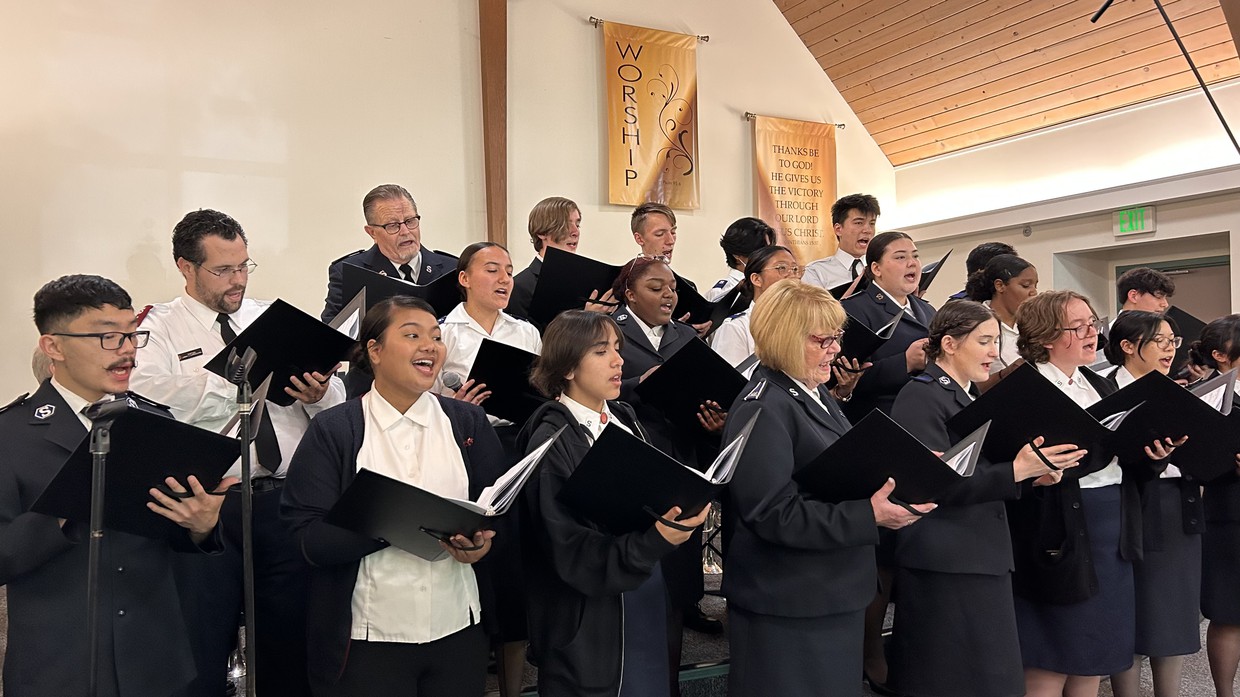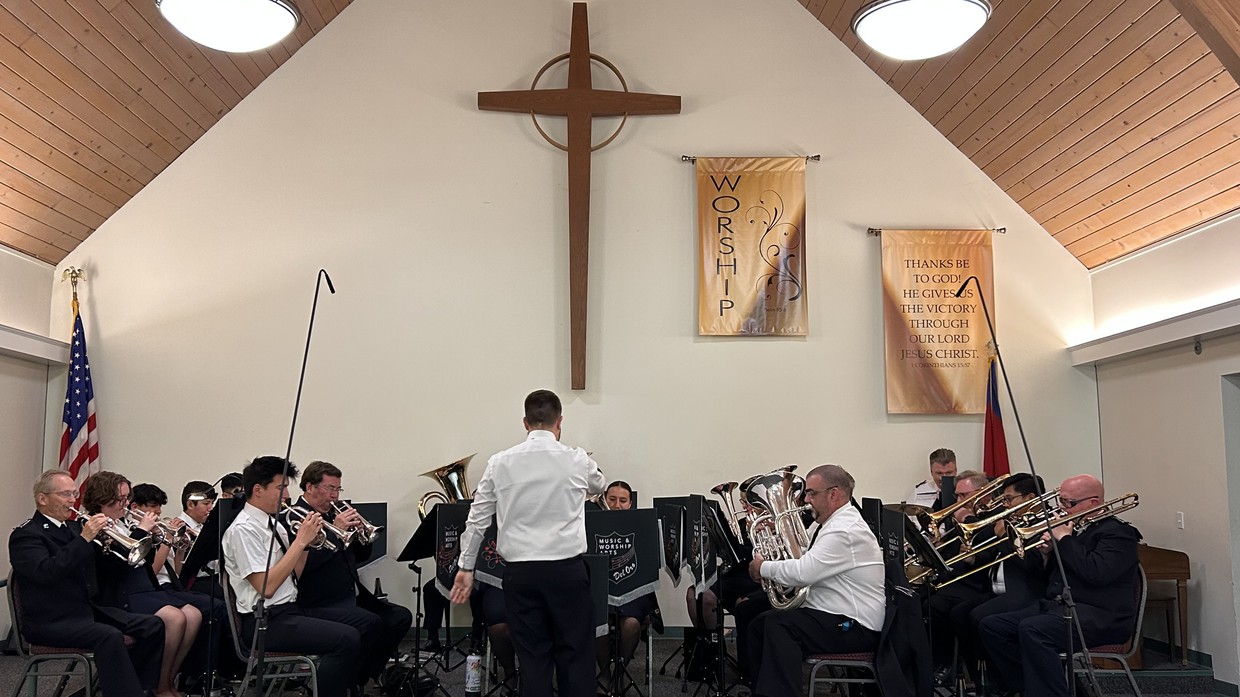 This Week's Schedule
SUNDAY
9:30 AM - Praise & Worship Practice - Chapel 10:15 AM - Prayer Group - Prayer Room 11:00 AM - Worship Service - Chapel 12:15 PM - Food and Fellowship - Fireside Room NOTE: No Adult Sunday School nor Youth Music Rehearsals this Sunday as many of the members will be in Santa Rosa for the Del Oro Brass and Chorus Ministry Weekend.
TUESDAY
6:00 PM - Men's Bible Study - Fireside Room 6:00 PM - Bible Study: The Ten Commandments - Hybrid (Library & Zoom) 7:00 PM - Songsters Practice - Chapel 8:00 PM - Senior Band Practice - Chapel
WEDNESDAY
10:00 AM - CAMEO: Mercy Beyond Borders - Hybrid (Fireside Room & Zoom)
SATURDAY
7:30 AM - Concord Encore Delegates leaving for Sacramento Citadel Corps 9:30 AM - Divisional Encore Competition - Sacramento Citadel Corps NOTE: Lunch will be provided for all those in attendance at the end and before being dismissed for the day.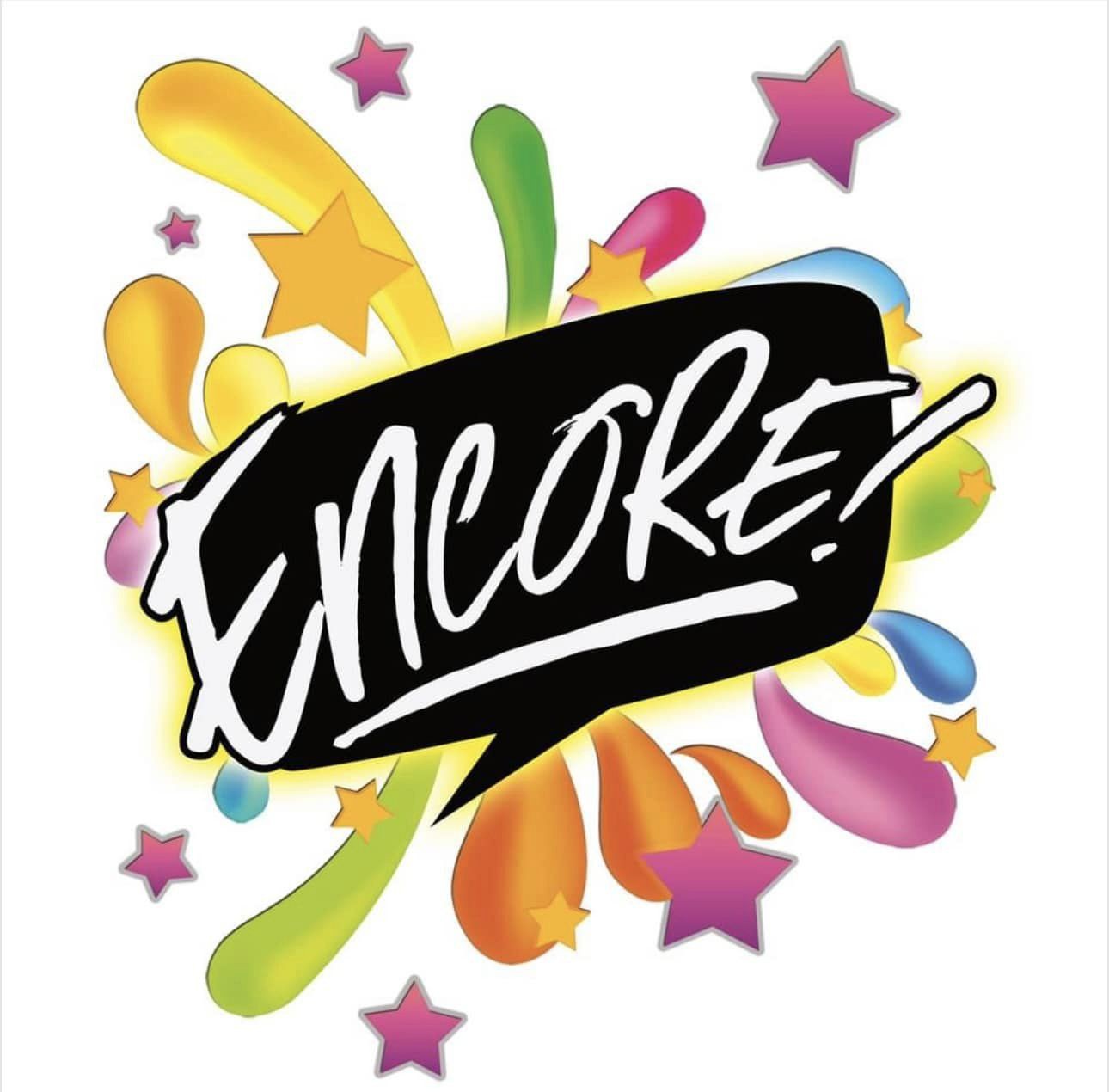 Pray for Major Willdonna Rich as she will be traveling down south to Camp Crags for the Retired Officers' Retreat. Her daughter, Emerian, and grandson, Scorpy, will also be attending the first-ever Adaptive Retreat at the College for Officers' Training. We are so excited for them to have this opportunity to fellowship and worship with other officers and friends from across the territory.
Save the Date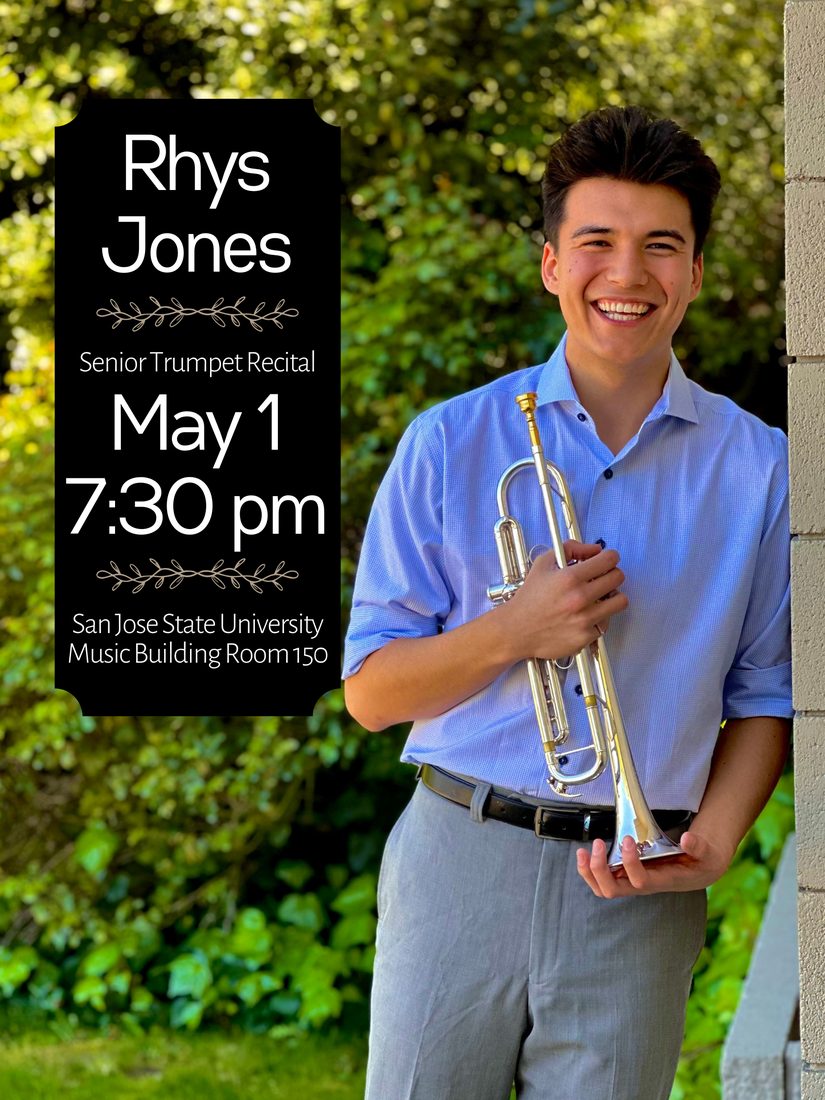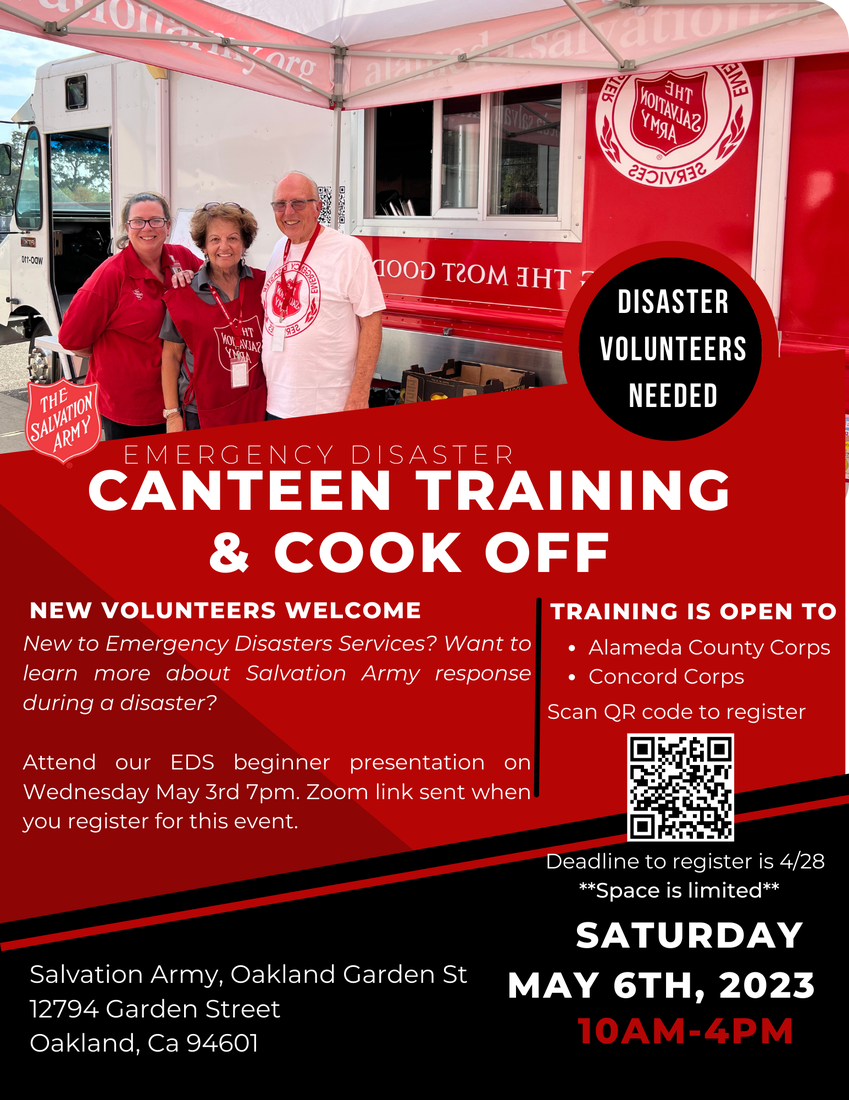 The key purpose of this training is to equip and engage NEW EDS volunteers. This training is open for all new, intermediate, and advanced canteen volunteers.
New volunteers are highly encouraged to attend a 1-hour Zoom presentation the Wednesday before the in-person training session. Once the attendee has registered for the event they will receive the beginner's presentation Zoom link. Canteens will be required. We will be utilizing both Alameda and Concord Canteens for this training.
Training Support This is a hands-on training and I encourage all corps and canteen leads to be a part of the pre-planning, setting up, and demobilization of this training. Canteen leads will go over details pertaining to this training on May 1st at 11 AM.
To register for this training:
Click on the link here https://forms.gle/3y7NdFmM147CSbxWA OR scan the QR code on the flyer
Divisional Women's Retreat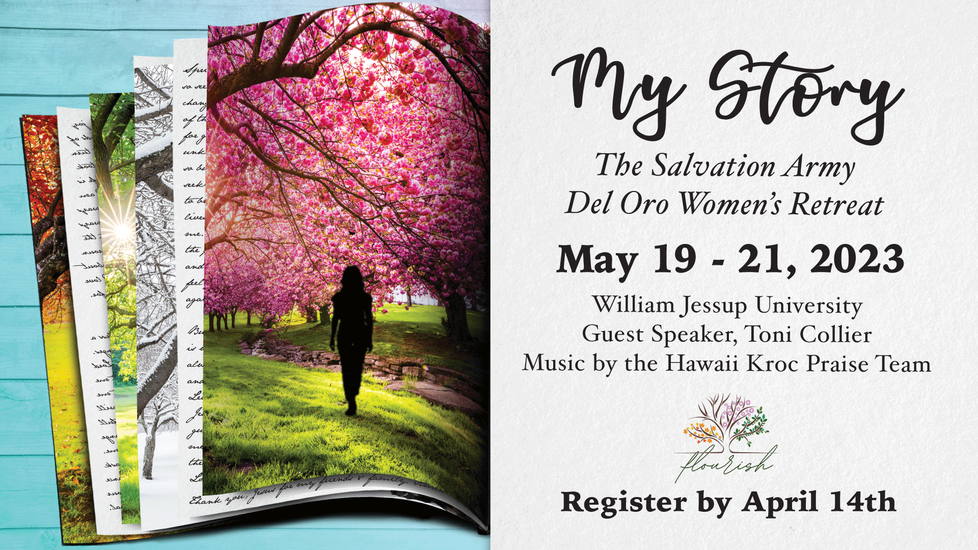 May 19-21, 2023 William Jessup University $85 (The total cost is $175. This includes your t-shirt, meals, transportation, and lodging.)
We are excited to announce that "My Story" is the theme for our 2023 Divisional Women's Retreat! Our Women's Department is planning an unforgettable weekend filled with workshops, games, free time activities, a banquet, and much more. We will have with us a praise team from Hawaii Kroc Center. Our guest speaker is Toni Collier. She is the founder of Broken Crayons Still Color, an international women's ministry that helps women process their brokenness and reclaim hope. We cannot wait to hear what God has done throughout your story. The weekend theme verse comes from 2 Timothy 1:3-11 and the theme song is "God is in the story."
Saturday night will be our formal dinner! We encourage you to dress up with a fancy hat. The banquet will focus on how we women wear many different hats.
See Major AnnMarguerite if you want to go and select your workshops.
Registration is due April 14th.
Divisional Men's Retreat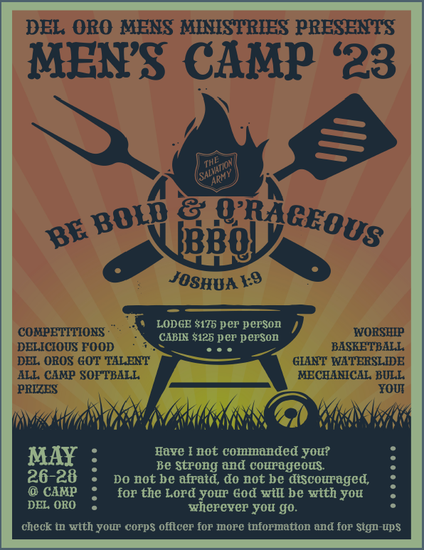 May 26-28, 2023 Camp Del Oro $85 (To include housing in the lodges, t-shirt, transportation, and meals.)
On Saturday night, May 27th, they will be having the first Del Oro's Got Talent! show with prizes awarded to the winners. All acts are welcome - groups, single acts, comedy, music, dance, and magic.
See Major Gwyn Jones to register. Registration is due May 5th.
---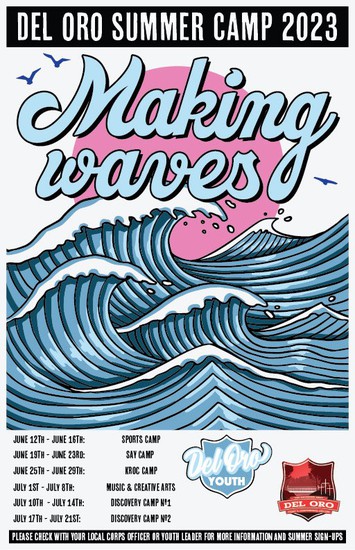 If you are interested in attending, please let Major Ann know. Registration is due 2 weeks prior to the start of each camp session. Although summer camp runs through most of the summer months, we have committed to 3 camp sessions (2 overlapping dates). See attached flyer for information.
mailto:annmarguerite.jones@usw.salvationarmy.org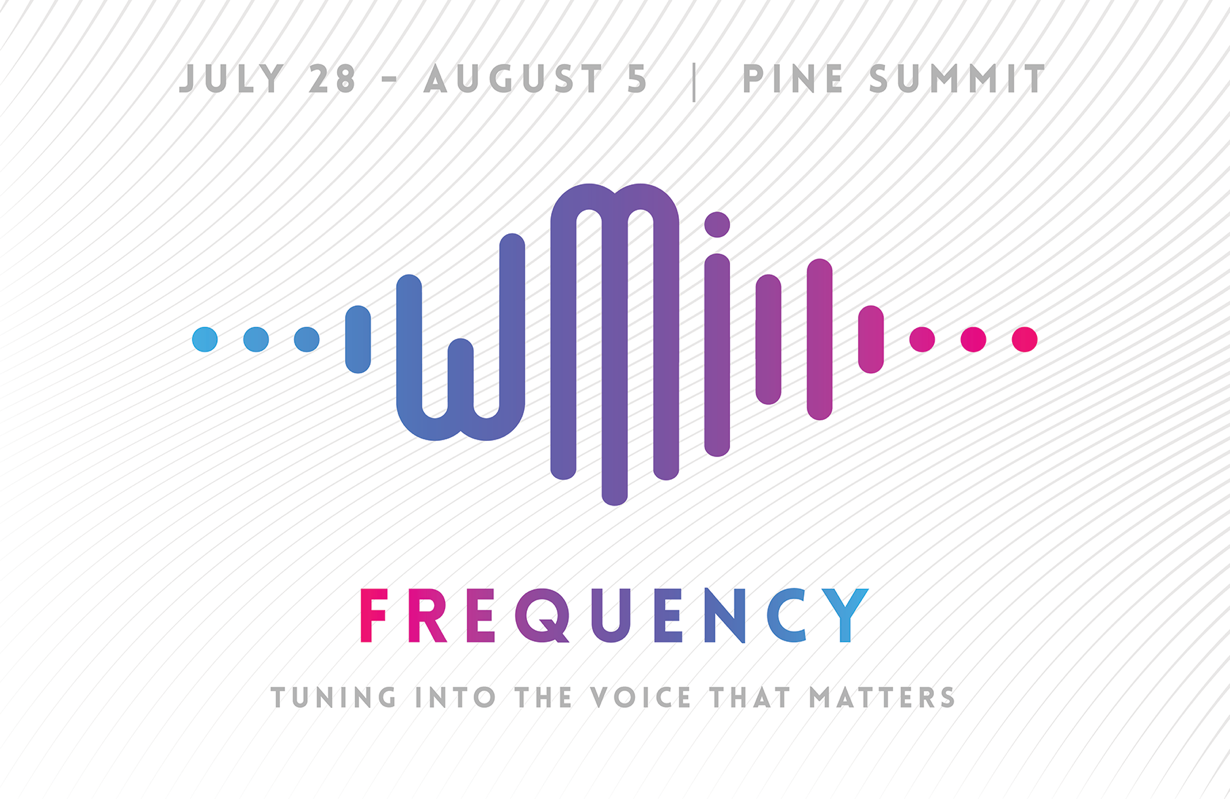 Western Music Institute July 28th - August 5th Pine Summit Camp, Big Bear, CA Sign up by May 31 to receive a discount.
Click here to apply: http://wmiapp.usawest.org
---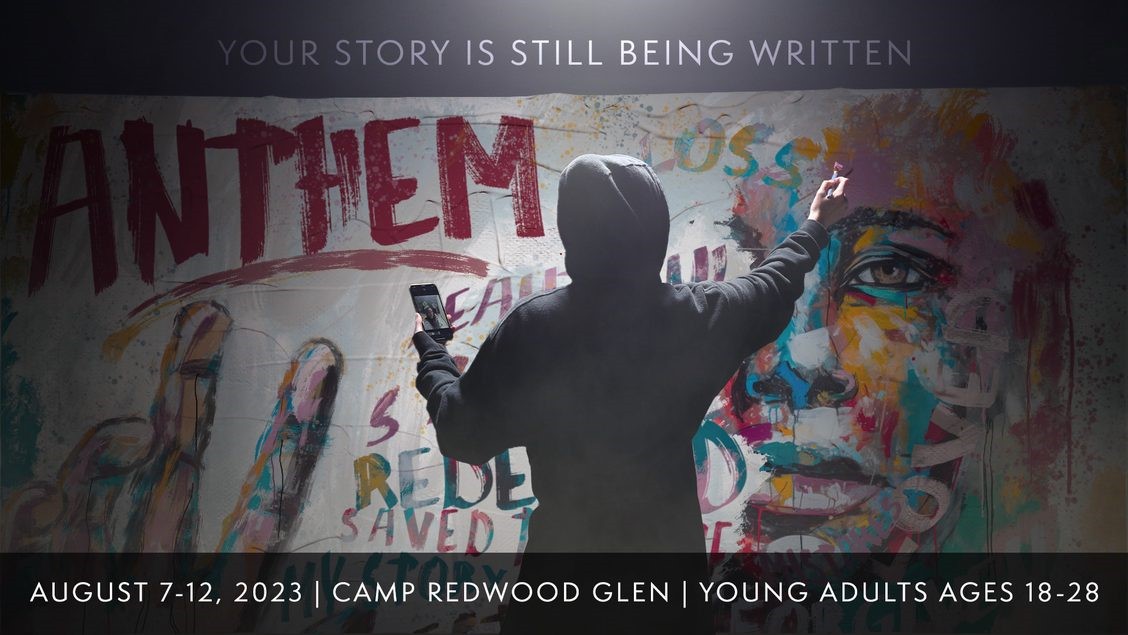 August 7-12 Camp Redwood Glen, Scotts Valley, CA Registration opens next week
Anthem (formerly known as WYI), is a week-long event for young adults, ages 18-28 that fosters a space for participants to explore the story of Jesus and learn how it intertwines with their own stories and the stories of others.
Anthem is more than an event. Anthem is a safe place for young adults to experience community and discover what it means to live out the story of Jesus in their own lives
Anthem seeks to create a space where delegates feel empowered to worship freely.
Our goal is that attendees feel welcome at Anthem and to come as they are to worship Jesus.
Our anthem is Victory over sin. Our anthem is Communion with God and His creation. Our anthem is praise to the creator God for His love, power, and glory.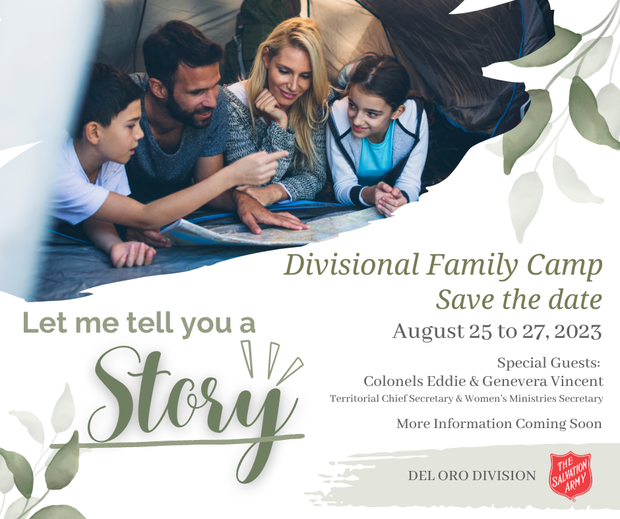 International Prayer Focus
This initiative of turning our thoughts and prayers towards the same part of the world at some point in the same week is a beautiful way to unite us as a global Army family and I thank you for the commitment you each give to this.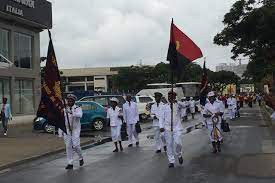 Angola Territory
Territorial Leader: Lt. Colonels Stephen and Theresa Malins
The Angola Territory has had a challenging start to 2023 – with arrival of the Officers Commanding delayed due to visa issues and with some serious banking challenges causing cash flow problems. But God is Good and faithful – our theme this year is "Rise", and we are anticipating that in all aspects of ministry and service, we will "Rise" as a Territory to seize the opportunities and possibilities that come our way.
Prayer Requests:
That the territory will "Rise" in effective prayer. That the Territory will "Rise" in service, ministry, social commitments, and seizing opportunities to make disciples.
Praying for Leaders: A Prayer for Patience
Gracious, Loving, Patient God -
We humbly recognize and thank you for the grace, love, and patience you pour over our lives every day. None of these are deserved and we can't do anything to earn them, but rather they come to us as gifts from your heart of infinite goodness.
We pray for leaders in our Salvation Army to have grace-filled, loving and patient hearts, modeling Christ-like responses and actions toward those they serve.
Grant them the assurance of your presence, with abundant patience to accept the responsibilities and challenges that each day brings.
Give them patience with people that require extra time and effort to understand.
When situations arise that have no easy or quick solution, may your Holy Spirit remind them that your answers are always worth waiting for and will be better than anything they can produce on their own.
Forgive the impatience that so easily overtakes us all – the times when we are slow to listen and too quick to offer our own perspectives and opinions.
From our senior leaders to our junior soldiers and everyone in between, may we be an army of people whose tender-hearted mercy, kindness, humility, gentleness, and patience are extended to each other and into the world around us.
Help us Lord, we pray!
AMEN
May the Lord bless you as you bless others through your intercessions on their behalf.
Prayer Requests
Requests will be prayed for in our Prayer Room and distributed through our Prayer Chain. Requests can be made anonymously.
---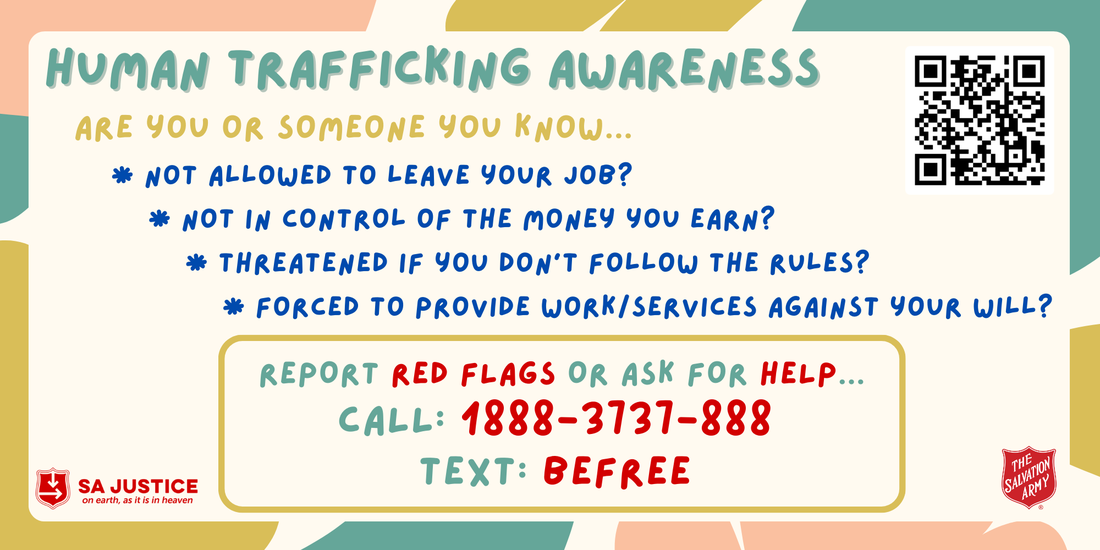 ---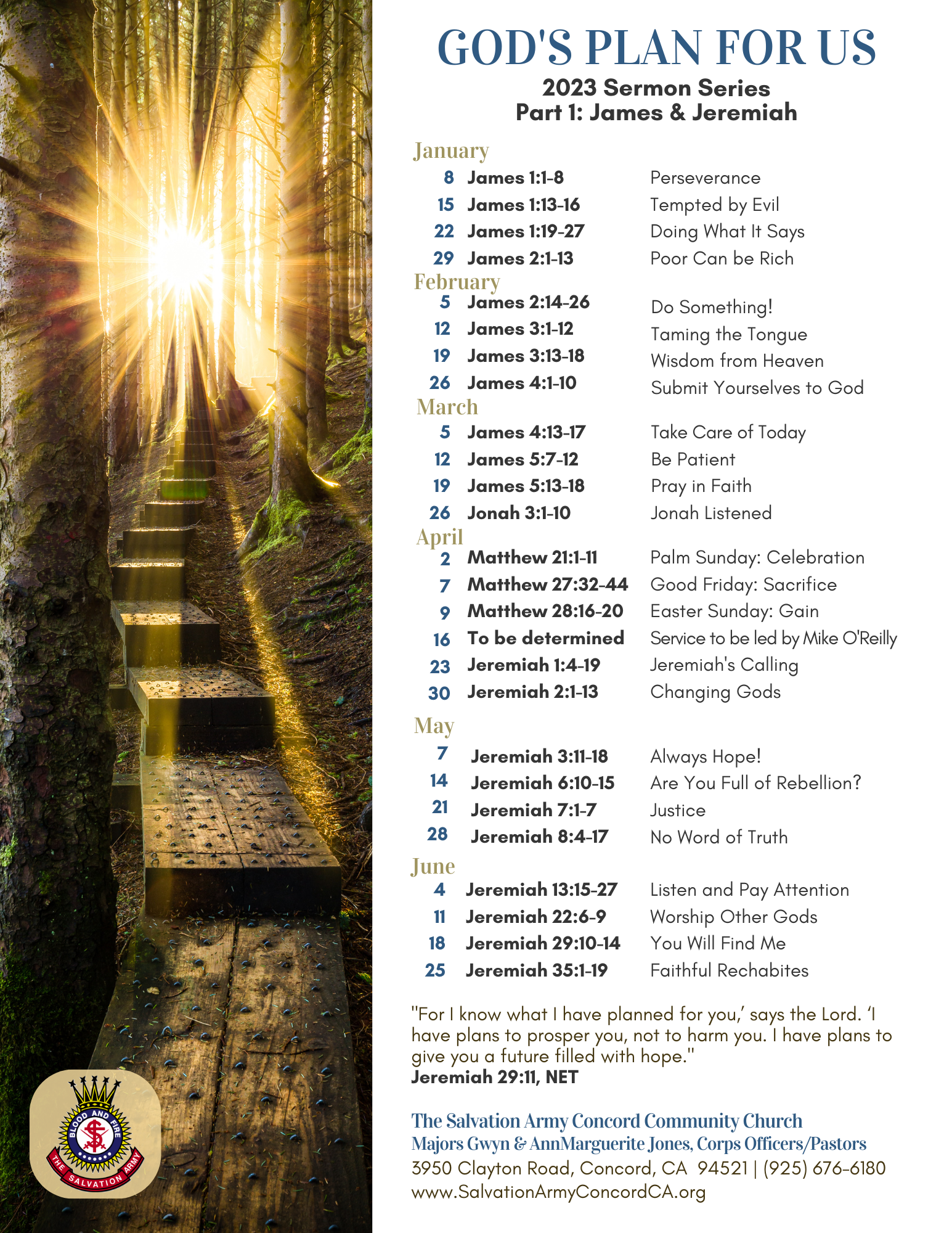 Click Here To Get to the Tith.ly App
You can make a tithe payment, give an offering, or donate towards the World Services fund.