This Week's Schedule
SUNDAY
09:30 AM - Praise & Worship Practice - Chapel 10:00 AM - Adult Sunday School - Library 10:15 AM - Prayer Time - Prayer Room 11:00 AM - Worship Service: Fourth Sunday of Lent - Chapel 12:15 PM - Food & Fellowship - Fireside Room 04:30 PM - DYR Delegates ETA - Concord Corps 07:00 PM - Territorial Youth Chorus Rehearsal - Zoom
TUESDAY
6:00 PM - Men's Bible Study - Fireside Room 6:00 PM - Bible Study: The Ten Commandments - Hybrid (Library & Zoom) 7:00 PM - Songsters Practice - Chapel 8:00 PM - Senior Band Practice - Chapel
WEDNESDAY
10:00 AM - CAMEO: Alaska Video - Hybrid
SATURDAY - Divisional Music Rehearsals - Suisun Kroc Center
09:30 AM - Del Oro Chorus 11:00 AM - Del Oro Brass 01:30 PM - Divisional Youth Chorus 02:30 PM - Divisional Youth Music Electives
NEXT SUNDAY - Palm Sunday!
Save the Date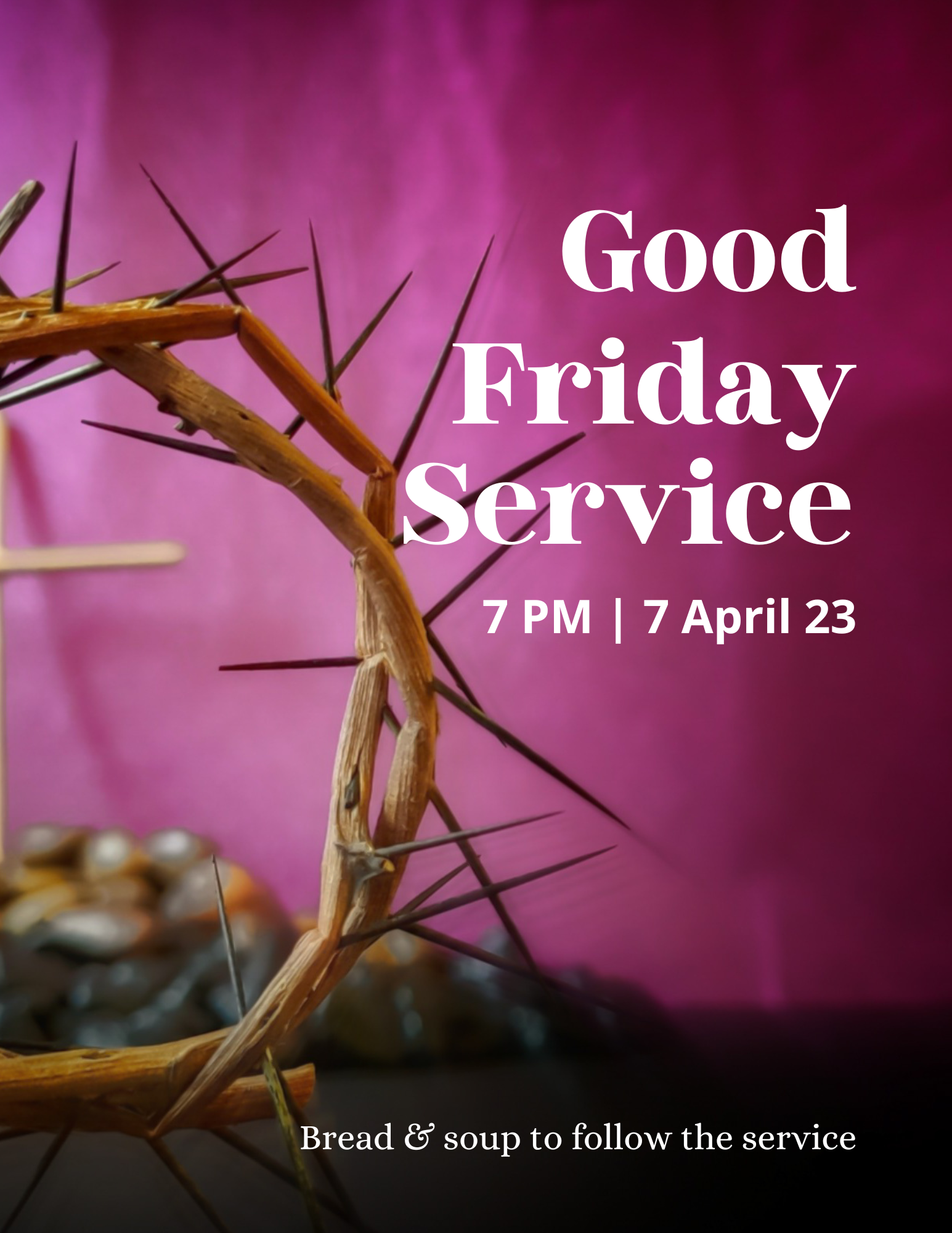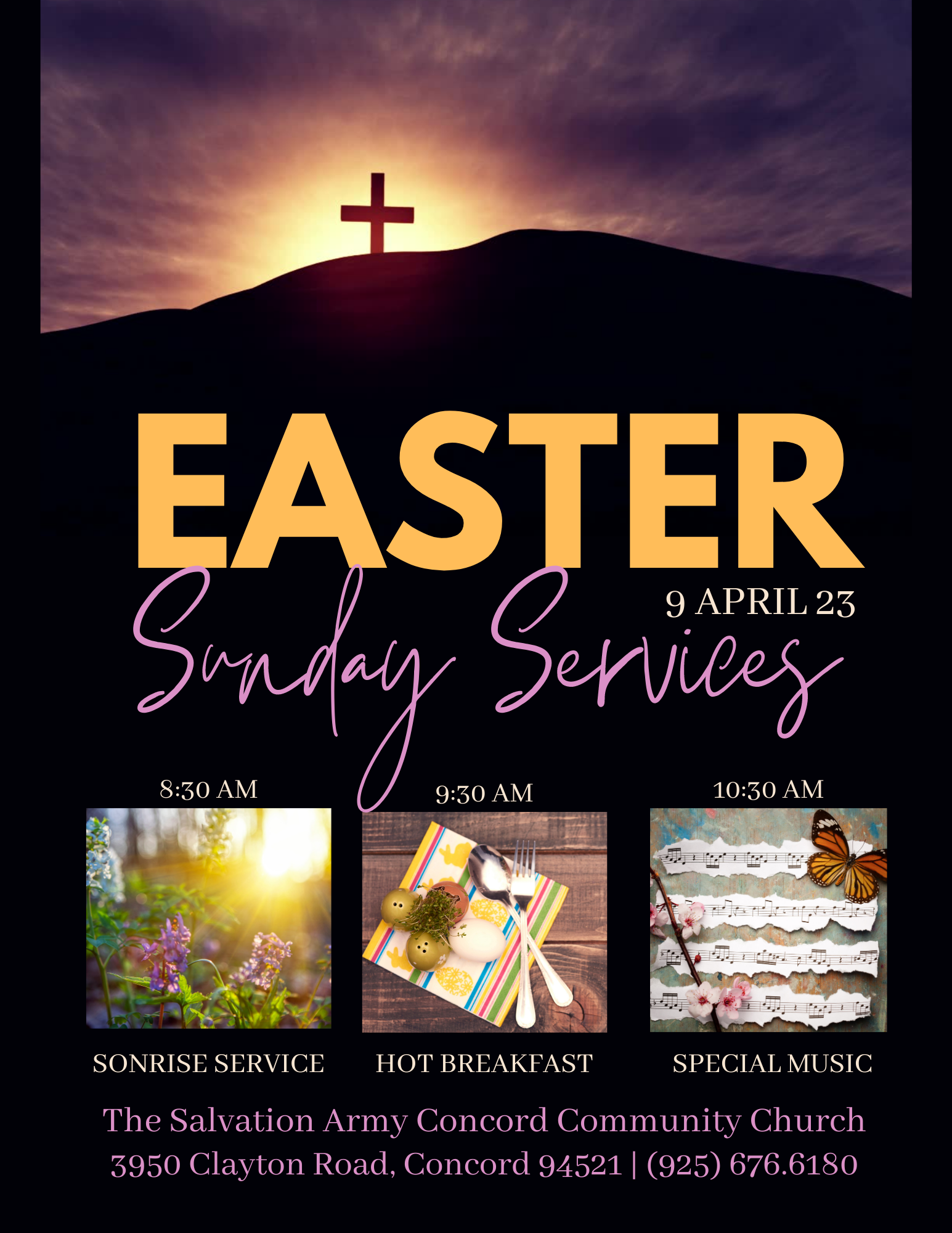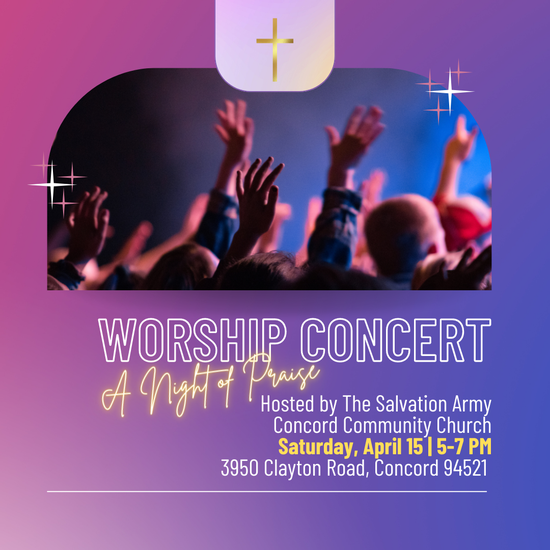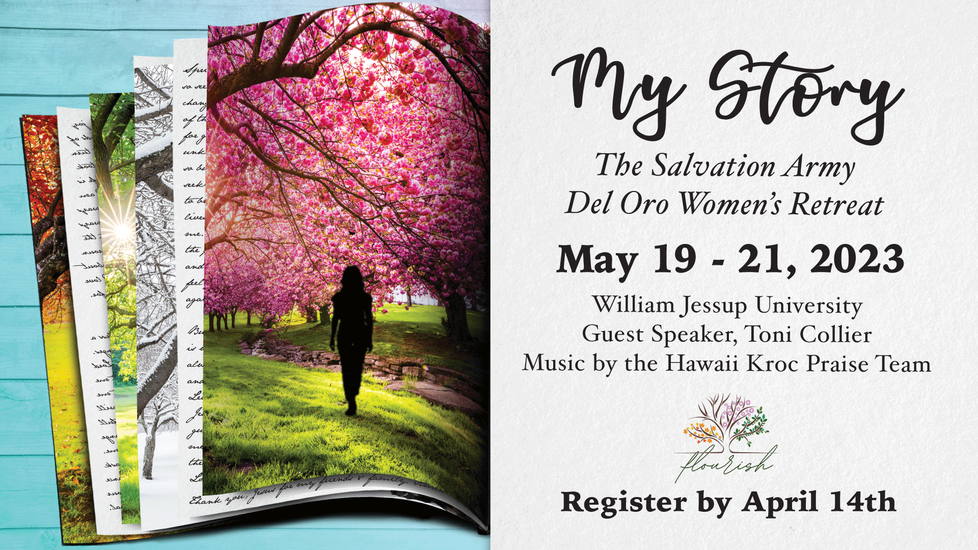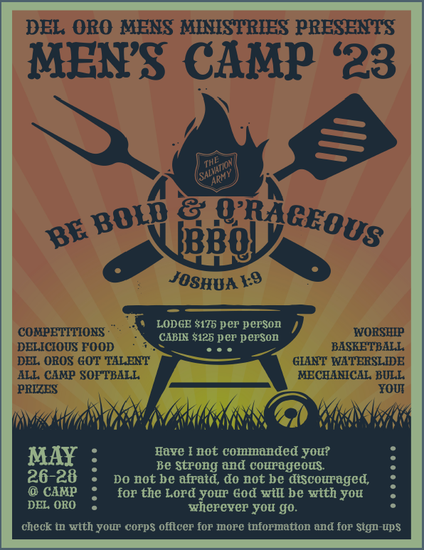 Divisional Women's Retreat
May 19-21, 2023 William Jessup University $85 (The total cost is $175. This includes your t-shirt, meals, transportation, and lodging.)
We are excited to announce that "My Story" is the theme for our 2023 Divisional Women's Retreat! Our Women's Department is planning an unforgettable weekend filled with workshops, games, free time activities, a banquet, and much more. We will have with us a praise team from Hawaii Kroc Center. Our guest speaker is Toni Collier. She is the founder of Broken Crayons Still Color, an international women's ministry that helps women process their brokenness and reclaim hope. We cannot wait to hear what God has done throughout your story. The weekend theme verse comes from 2 Timothy 1:3-11 and the theme song is "God is in the story."
Saturday night will be our formal dinner! We encourage you to dress up with a fancy hat. The banquet will focus on how we women wear many different hats.
See Major AnnMarguerite if you want to go and select your workshops.
Registration is due April 14th.
Divisional Men's Retreat
May 26-28, 2023 Camp Del Oro $85 (To include housing in the lodges, t-shirt, transportation, and meals.)
On Saturday night, May 27th, they will be having the first Del Oro's Got Talent! show with prizes awarded to the winners. All acts are welcome - groups, single acts, comedy, music, dance, and magic.
See Major Gwyn Jones to register. Registration is due May 5th.
Turkey & Syria Earthquake/International Response
Because The Salvation Army doesn't have an established presence in Turkey or Syria, we're assessing options to partner with agencies that do. Services would likely include providing emergency relief to survivors and first responders in the area, including feeding, essential hygiene and cleanup supplies, and emotional and spiritual care.
Those who would like to financially support these efforts may visit www.sawso.org. Donations via SAWSO will help us, in collaboration with partner organizations in the region, provide urgently needed assistance to survivors.
International Prayer Focus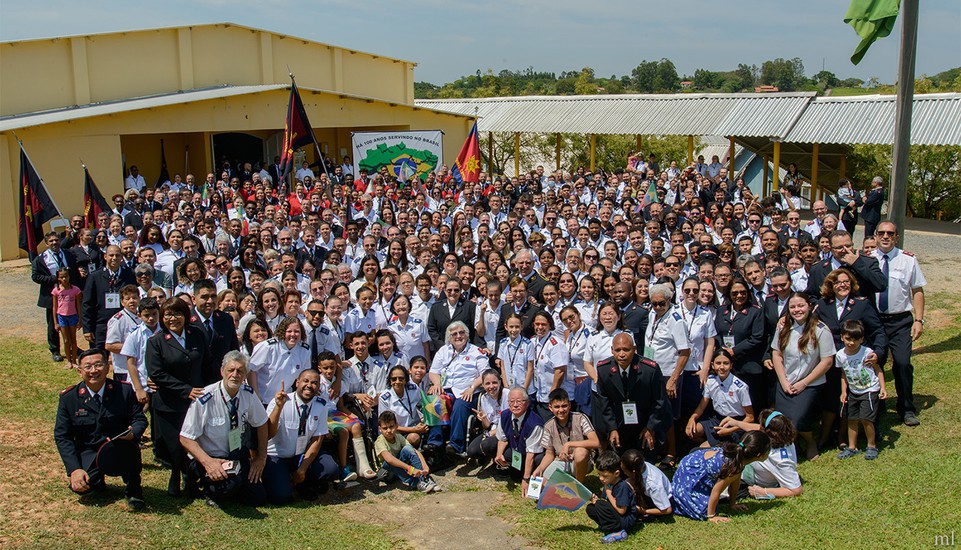 This initiative of turning our thoughts and prayers towards the same part of the world at some point in the same week is a beautiful way to unite us as a global Army family and I thank you for the commitment you each give to this.
Brazil Territory
Territorial Leaders: Colonels Nara and Wilson Strasse
For a spiritual revival throughout the Territory.
For wisdom and direction for Territorial Leadership.
For the youth of the Territory.
For the implementation of Strategic Planning.
For the Officers' Children's Camp to be held in April.
ByoOfficers, collaborators, and their families.
For the development and challenges of the Salvationist work in Brazil
WEEK 5 - A Prayer for Encouragement for our Salvation Army Leaders:
A Prayer for Fresh Energy and Creativity
Creator God, You created this universe from nothing, fitting together all of its growing, self-renewing details in absolute perfection.
You anticipated that we humans would sin and separate ourselves from you so, in Jesus, you created the perfect solution for the mess we made, and in Him, we become new creations.
Made in your image, we too love to create. To think of new thoughts, dream new possibilities and bring them into existence, compose new songs, write new poems, and create solutions to problems that we or others make.
We also, though, have a tendency to settle comfortably into what is familiar and put limits on the new things you may desire to accomplish in your world through us.
Give your leaders, and through them, your Army, renewed energy we pray.
Release the fresh desire to see new possibilities become realities, courage to empower those who may think or do things differently, and willingness to encourage whatever it takes to 'save souls, grow saints and serve suffering humanity'.
Father of all creativity, send your Spirit of freedom and break us out of what is to what could be for the sake of bringing Jesus to those who need to know Him. AMEN
May the Lord bless you as you bless others through your intercessions on their behalf.
Prayer Requests
Requests will be prayed for in our Prayer Room and distributed through our Prayer Chain. Requests can be made anonymously.
---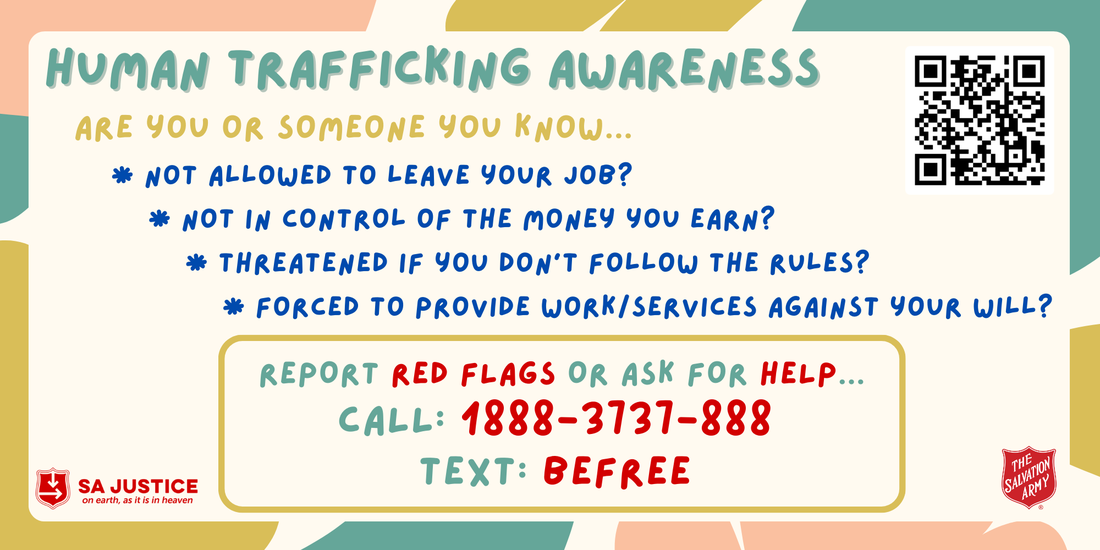 ---
Find Your Place - Survey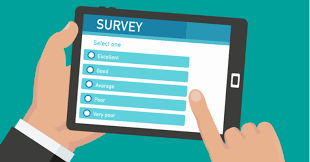 Caring Magazine is conducting a simple survey for soldiers, officers, clients, etc. to complete.
Please complete this very short survey by clicking this link:
https://docs.google.com/forms/d/e/1FAIpQLSd46hXaMQTA0M8Tuz8hBr2l7uW04Bmm1cus9hQGVc_SPy-NwA/viewform
---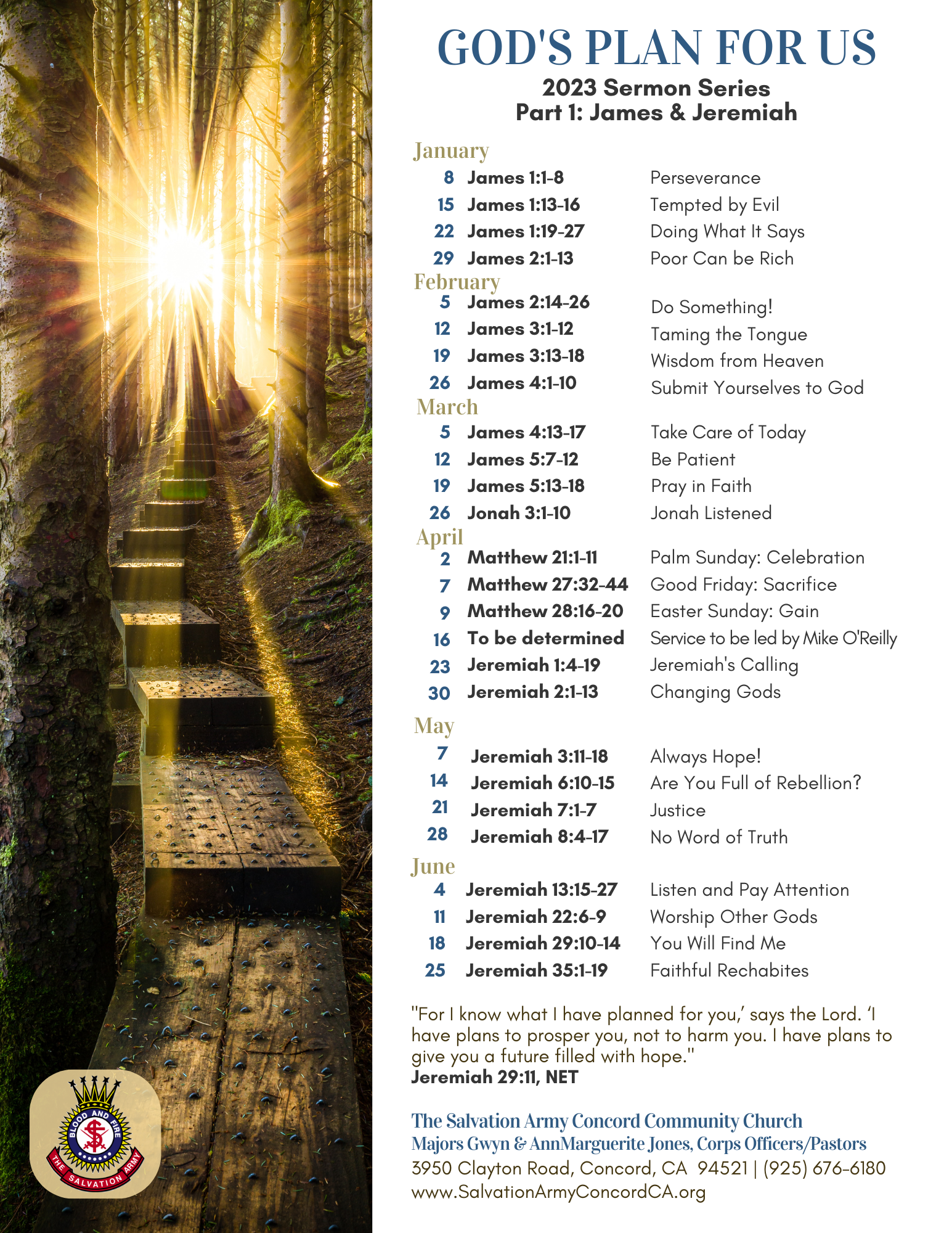 Click Here To Get to the Tith.ly App
You can make a tithe payment, give an offering, or donate towards the World Services fund.